Critical Review of the DPJ Government

Project Overview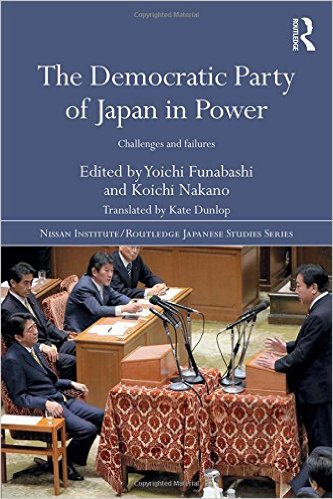 When the Democratic Party of Japan (DPJ) came to power in September 2009, Japanese citizens expected that soon a new era of the "two-party system" would be in place in the country. However, while Japan suffered seriously from the 2011 Tohoku earthquake and tsunami, the DPJ faced a variety of difficulties arising from their controversial policies and a large number of defectors from the party after the consumption tax increase bill, and lost power after a drastic decrease of seat numbers in the 2012 Lower House election.
This project examined the DPJ administration from September 2009 to December 2012, from various perspectives such as policies, party governance, and management and legacy. Its ultimate goal is to identify the significance of the DPJ in Japan's party politics and the reasons for its downfall, as well as to derive necessary lessons for Japan's future party democracy.
The authors, a team of academic professionals and a lawyer, will analyze the policies and events during the time of DPJ, based on the testimonies from the interviews with the DPJ core politicians and related persons who were at or close to the center of the administration. The lessons learned under the DPJ government will be drawn for the future of Japan's political party democracy. The output, entitled "Critical Review of the DPJ Government," was published in Japan from Chuokoron-Shinsha, Inc. on September 25, 2013, and the English edition, "The Democratic Party of Japan in Power: Challenges and Failures," was published from Routledge on September 8, 2016.
About the Interviews
In order to examine the true form of the DPJ Administration during its reign, we conducted thirty interviews in total; targeting those who were at the center of the administration such as Prime Ministers, Cabinet members, DPJ leaders, party lawmakers, bureaucrats and social activists. We listened to the actions of these interviewees during their time in the DPJ, as well as behind-the-scenes stories of the challenges and failures the DPJ had undergone. We had question-and-answer sessions for a wide variety of topics in each interview.
Obtaining the testimonies resulted in a successful projection of credible and explicit insights on DPJ governance in our report.
About the Surveys
Surveys were also conducted to non-interviewed members in accordance with the interviews in order to have a general idea of the DPJ members' self-assessments on party governance. Detailed surveys were conducted with incumbent DPJ Lower House lawmakers (as of September 2013, with the exception of one individual first elected to the Lower House in December 2012).
Out of the 56 members targeted, we received answers from 45 individuals. The response rate was a staggering 80.4%.
The results of the survey reflect a self-evaluation of the DPJ lawmakers' own experiences of running the government.
All of the responses(Japanese only)
Authors
Leading Japanese and American political scientists and economists, lawyers, and journalists took charge in specific fields of their expertise. Each chapter of the book is examined and written by each of these experts. A former director of the editorial board of a major newspaper managed editing to keep coherence of the outcome.

(Project Leader, Introduction and Chapter 6)
NAKANO, Koichi
Professor of Political Science, Faculty of Liberal Arts, Sophia University.
Prof. Nakano specializes in the comparative politics of advanced industrial democracies, particularly Japan and Europe, and in political theory. He has a B.A. in philosophy from the University of Tokyo, a second B.A. in philosophy and politics from the University of Oxford, and an M.A. and a Ph.D. in politics from Princeton University. His research has focused on a variety of issues of contemporary Japanese politics from comparative, historical, and philosophical perspectives, including neoliberal globalization and nationalism; the Yasukuni issue; amakudari and administrative reform in Japan; decentralization; the cross-national transfer of policy ideas; and the changing nature of conservatism in postwar Japan. In English, he has published articles in The Journal of Japanese Studies, Asian Survey, The Pacific Review, West European Politics, Governance, and a single-authored book entitled Party Politics and Decentralization in Japan and France: When the Opposition Governs (Routledge, 2010) among others. In Japanese, his publication includes Sengo Nihon no Kokka Hoshushugi: Naimu/Jichi Kanryo no Kiseki (Postwar State Conservatism in Japan: A Study of the Bureaucrats of the Ministry of Home Affairs) (Iwanami Shoten, 2013).
---

(Chapter 1)
NAKAKITA, Koji
Professor of Politics, Graduate School of Social Sciences, Hitotsubashi University
Koji Nakakita received his Ph.D. from the University of Tokyo in 1997. Before joining the Hitotsubashi faculty in 2011 he was a member of the department of politics at Rikkyo University for ten years. Professor Nakakita is a specialist of the politics and history of contemporary Japan and the author of the following books: The Politics of Economic Reconstruction in Postwar Japan (1998), The Establishment of the 1955 System in Japanese Politics (2002), Japanese Labor Politics in the Context of International History (2008), Party Democracy in Contemporary Japan (2012), all written in Japanese.
---

(Chapter 2)
SHIOZAKI, Akihisa
Attorney at Law, Partner of Nagashima Ohno and Tsunematsu
Mr. Shiozaki is a partner of Nagashima Ohno and Tsunematsu, one of Japan's leading law firms, practicing mainly in the fields of corporate governance and crisis management. He worked in the Prime Minister's office as a senior policy advisor from 2006 to 2007. He also served as one of the core working group members in the Independent Investigation Commission on the Fukushima Nuclear Accident. Mr. Shiozaki graduated from the University of Tokyo (LLB, 1999), and earned a master's degree in International Policy Studies from Stanford University (MA, 2000). He also holds an MBA from the Wharton School of the University of Pennsylvania (2010). Shiozaki co-authored "Japan's Worst Case Scenario – Nine Blind Spots" (2013) and many other articles.
---

(Chapter 3)
TANAKA, Hideaki
Professor of Graduate School of Governance Studies, Meiji University
Dr. Hideaki Tanaka took a BEng & MEng from Tokyo Institute of Technology, and then joined the Ministry of Finance in 1985. Since then, he has held various positions in MOF, Cabinet Office, Ministry of Foreign Affairs, and Ministry of Social Welfare. He also spent time as an academic at Australian National University and Hitotsubashi University, and took an MSc in Social Policy and Planning from the London School of Economics and Political Science and Doctor of Policy Studies from National Graduate Institute of Policy Studies. He specializes in public policy, finance and management. His work includes "Fiscal Rules and Targets and Public Expenditure Management: Enthusiasm in 1990s and Its Aftermath"(Pacific Economic Papers, No.346, Australian National University).
---

(Chapter 4)
JIMBO, Ken
Associate Professor, the Faculty of Policy Management, Keio University
Prior to joining Keio University, Dr. Jimbo was a Director of Research at the Japan Forum on International Relations Inc. (JFIR) in 2003-2004, and a Research Fellow at the Japan Institute of International Affairs (JIIA) in 1999-2003. He obtained his Ph.D from the Graduate School of Media and Governance at Keio University in March 2005. His main research fields include Japan-US Security Relations, Japanese Foreign and Defense Policy, Multilateral Security in Asia-Pacific, and Regionalism in East Asia. He has been a member of various governmental commissions and research groups including the Globalization Working Group of the 21st Century Vision (Council on Economic and Fiscal Policy, Cabinet Secretariat. His recent articles (in English) include, Ken JIMBO ed., Regional Security Architecture in the Asia-Pacific, Tokyo Foundation (2010) (in Japanese) Ajia Taiheiyo no Chiiki Anzen Hosho Ahkitekucha; Dr. Jimbo is concurrently a Senior Research Fellow at the Tokyo Foundation, and the Canon Institute for Global Studies.
---

(Chapter 5)
HAGIWARA, Kumiko
Professor, Department of Economics, Shimonoseki City University
Prior to her current post, she was a Research Associate of Institute of Social Science, University of Tokyo, Chief Fellow of Economic Policy Institute for Quality of Life and Staff Writer for the Yomiuri. She also has been affiliated with Institute of Research on Labor and Employment, UC Berkeley. Her main research interests focus on sociology of work, gender, and social policy. Her main publications in Japanese (books, sole author) are Meiso suru Ryoritu Shien, (2006), Ikuji-Kyushoku Kyouyaku no Seiritsu, (2009, Awarded Work by Japanese Association of Labor Sociology). Publications in English are "Feminization of Poverty in Japan–A Special Case?" (coauthored)in Poor Women in Rich Countries:The Feminization of Poverty Over the Life Course, (2009), "Who Wanted the Public Child Care Support? : Organization of "Work" of Female Weavers, Mill Managers and Families in Northern Fukushima during High Growth Era"(GEMC journal, No.6, 2012). M.A. (Sociology, Hitotsubashi University).
---

(Chapter 7)
LIPSCY, Phillip Y.
Assistant Professor of Political Science, Stanford University
The Thomas Rohlen Center Fellow, Shorenstein Asia-Pacific Research Center
Dr. Phillip Lipscy's fields of research include international and comparative political economy, international security, and the politics of East Asia, particularly Japan. Lipscy is an expert on bargaining over unbalanced representation in international organizations such as the United Nations Security Council, International Monetary Fund, and World Bank. His existing work addresses a wide range of topics such as the use of secrecy in international policy making, the effect of domestic politics on trade, the politics of energy and climate change, and the politics of financial crises. Lipscy obtained his PhD in political science at Harvard University. He received his MA in international policy studies and BA in economics and political science at Stanford University.
---

(Chapter 7 collaborator)
MURAI, Tetsuya
Part-time Lecturer, the School of Law, Meiji University
Dr. Tetsuya Murai specializes in post-World War II political history in Japan, in particular the prime minister system and bureaucracy system. His main writings include "The Origin of the Political System in Postwar Japan: Shigeru Yoshida and the Prime Minister Initiative."
---

Editor
OHNOKI, Yoshinori
Editor
Born in 1950, he began his career at The Asahi Shimbun in April 1974. As a journalist, he was mainly involved in reporting financial policies and economic activities and advanced through a series of editorial posts, including Deputy Editor of the Economic News Dept., Editor of the online news site "asahi.com," and Editor of the paper's weekend supplement "be."
He was a member of the Editorial Board from 2006, and Director of the Editorial Board from 2010 to 2012.
---

Program Director
FUNABASHI, Yoichi (Foreword, Conclusion and Afterword)
Chairman of the RJIF
Former Editor-in-Chief , The Asahi Shimbun
Distinguished Guest Professor, Keio University
Yoichi Funabashi is Chairman of the Rebuild Japan Initiative Foundation and a former Editor-in-Chief for the Asahi Shimbun. He is a contributing editor of Foreign Policy (Washington, DC).
He served as correspondent for the Asahi Shimbun in Beijing (1980-81) and Washington (1984-87), and as American General Bureau Chief (1993-97). In 1985 he received the Vaughn-Ueda Prize for his reporting on international affairs. He won the Japan Press Award, known as Japan's "Pulitzer Prize", in 1994 for his columns on foreign policy, and his articles in Foreign Affairs and Foreign Policy won the Ishibashi Tanzan Prize in 1992.
His books in English include The Peninsula Question (Brookings Institute, 2007); Reconciliation in the Asia-Pacific, ed. (USIP, 2003,); Alliance Tomorrow, ed. (Tokyo Foundation, 2001); Alliance Adrift (Council on Foreign Relations Press, 1998, winner of the Shincho Arts and Sciences Award); Asia-Pacific Fusion: Japan's Role in APEC (Institute for International Economics, 1995, winner of the Mainichi Shimbun Asia Pacific Grand Prix Award); and Managing the Dollar: From the Plaza to the Louvre (1988 winner of the Yoshino Sakuzo Prize).
His recent articles and papers in English include: "Fukushima in review: a complex disaster, a disastrous response"(Bulletin of the Atomic Scientists, March/April 2012); "Lessons from Japan's nuclear accident" (East Asia Forum, 26 March 2012); "The end of Japanese illusions"(New York Times, 11 March 2012); "My findings in Japan's existential fallout" (Financial Times, 9 March 2012); "Challenges for Rising Asia and Japan's Role" (Yale Global Online, September 2010); "Forget Bretton Woods II: the Role for U.S.-China-Japan Trilateralism" (Washington Quarterly, April 2009); "No One Model for Global Economy" (Yale Global Online, March 2009); "Keeping Up With Asia" (Foreign Affairs, September/October 2008); "Power of Ideas: The US is Losing its Edge" (Global Asia, Fall 2007); "Stuck on the Sidelines", (Newsweek International, 5 March 2007); "Koizumi landslide: the China factor" (Yale Global Online, 15 September 2005); "The world should also have a vote"(International Herald Tribune, 25 March 2004); "Koizumi opens a Pandora's box"(Financial Times, 7 January 2004); "China is preparing a 'peaceful ascendancy' " (International Herald Tribune, 30 December 2003); "Learning from five years of trialogue" (China-Japan-US: Meeting New Challenges, 2002); "Northeast Asia's strategic dilemmas" (Assessing the Threats, 2002); "Asia's digital challenge"(Survival, Spring 2002); "Japan's unfinished success story" (Japan Quarterly 2001); "Japan's moment of truth" (Survival, Winter 2000-01); "International perspectives on national missile defense: Tokyo's temperance" (The Washington Quarterly, Summer 2000); "Tokyo's depression diplomacy" (Foreign Affairs, November / December 1998); "Thinking trilaterally" (China-Japan-US: Managing the Trilateral Relationship, 1998); and "Bridging Asia's economics-security gap" (Survival, Winter 1996-97).
He received his B.A. from the University of Tokyo in 1968 and his Ph.D. from Keio University in 1992. He was a Nieman Fellow at Harvard University (1975-76), a visiting Fellow at the Institute for International Economics (1987), a Donald Keene Fellow at Columbia University (2003), and a visiting professor at the University of Tokyo Public Policy Institute (2005-2006).
---

Staff Director
TAWARA, Kentaro
RJIF Chief Administrative Officer/Fellow
Joined Nippon Credit Bank in April 1988 where he was in charge of corporate finance and debt restructuring projects such as Euro Disney at its head office and London branch. After his next career at Daiwa Securities SMBC from February 2001 as corporate turnaround advisor, he participated in the management of Sequedge Group in November 2002. Since then he has been managing a variety of businesses in which the Group invested, such as a nursing home operator, a hospital turnaround consulting firm and an Italian luxury fashion brand. B.A. in Engineering at University of Tokyo (1988) and M.Phil. in Land Economy at University of Cambridge (1993).
---