Reports & Publications
The Democratic Party of Japan in Power: Challenges and Failures (RJIF)
This project examines the DPJ administration from September 2009 to December 2012, from various perspectives such as policies, party governance, and management and legacy. Its ultimate goal is to identify the significance of the DPJ in Japan's party politics and the reasons for its downfall, as well as to derive necessary lessons for Japan's future party democracy.
Edited by Yoichi Funabashi, Chairman, RJIF and Koichi Nakano, Professor, Sophia University,
Publisher: Routledge (Nissan Institute/Routledge Japanese Studies)
First Published: September 8, 2016
ISBN-10: 1138638706
ISBN-13: 978-1138638709
Foreword
Preface: The Democratic Party of Japan in Power by Arthur Stockwin and Roger Goodham
Preface to the English edition
Introduction: the DPJ's evolution and three years in power
1. The Manifesto: why was the DPJ Unable to keep its campaign promises?
2. Political leadership: the failure of the DPJ's "Five Measures"
3. The economy and public finance: the challenges and setbacks of reform
4. Foreign and security policy under the DPJ: from idealism to pragmatism
5. The child allowance: a failed attempt to put "children first"
6. The DPJ's mismanagement of government and party: was Ozawa alone to blame?
7. DPJ election strategy: the dilemma of landslide victory
Conclusion: a message to the DPJ: be the party of reform. Improve your ability to govern.
Afterword
A timeline of major events in the history of the DPJ
List of DPJ members interviewed
List of survey respondents
The result of the survey of DPJ Diet members
Anatomy of the Yoshida Testimony
– The Fukushima Nuclear Crisis as seen through the Yoshida Hearings (RJIF)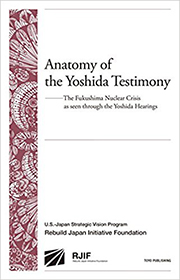 Several members of working group of the Independent Investigation Commission on the Fukushima Nuclear Accident examined whether Japan has learned the lessons from Fukushima since the accident through the analysis of the hearing records from the late Mr. Masao Yoshida, former Site Superintendent of the TEPCO Fukushima Daiichi Nuclear Power Station, which was released in September 2014 (so-called "Yoshida Testimony"). Based on the report by the Independent Investigation Commission, this project analyzes the testimony closely from several points of view, such as Incident Command System (ICS), operation, governance of crisis management, leadership on crisis, safety and security, and ways to learn lessons.
Author: Rebuild Japan Initiative Foundation
Publisher: TOYO PUBLISHING
Price: ¥1,800 +Tax
First Published: August 28, 2015
ISBN-10: 4809678016
ISBN-13: 978-4809678011
Foreword: From Investigating the Accident to Investigating the Crisis
Part 1: A Reading of the Yoshida Hearings
Yoichi FUNABASHI
Part 2: Three Years on from Publishing The Independent Investigation Report
(An analysis and investigation three years after the event by four members of the then Working Committee)
Kenta HORIO
Akihisa SHIOZAKI
Kazuto SUZUKI
Shin-etsu SUGAWARA
Afterword
Chronology of the Fukushima Nuclear Accident
Examining Japan's Lost Decades (RJIF)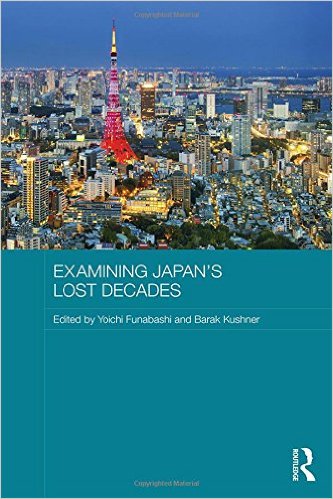 What specifically did Japan lose during the so-called "lost decades," which began with the bursting of the bubble in 1989? Why and how did Japan's policies fail? Were there alternatives and why didn't they ripen into practical plans? How should Japanese policymakers have reacted – have they made any significant efforts to revitalize Japan or have they just accepted a gentle national decline? Such questions are tackled head on in Examining Japan's Lost Decades (Routledge Contemporary Series), which provides insights critical not only to the future of Japan but sheds light on how Europe, the US and Asian countries can deal with common challenges, including demographic shifts, fiscal deficit, free trade and international security.
Edited by Yoichi Funabashi, Chairman, RJIF and Barak Kushner, University of Cambridge, Reader, the Faculty of Asian and Middle Eastern Studies
Publisher: Routledge Contemporary Japan Series
First Published: April 20, 2015
ISBN: 978-1138885752
1. Japan's Demographic Collapse and Vanishing Provinces
2. Monetary and Fiscal Policies (Japan's fiscal policy failure)
3. The Two "Lost Decades" and Macroeconomics: Changing Economic Policies)
4. The Curse of "Japan, Inc." and Japan's Microeconomic Competitiveness
5. Making Sense of the Lost Decades: Workplaces and Schools, Men and Women, Young and Old, Rich and Poor
6. The Two Lost Decades in Education: The Failure of Reform
7. The Fukushima Nuclear Accident: Lost Opportunities and the "Safety Myth"
8. The Last Two Decades in Japanese Politics: Lost Opportunities and Undesirable Outcomes
II. THE GLOBAL SPHERE: DIPLOMACY AND NATIONAL SECURITY POLICY
9. The Gulf War and Japan's National Security Identity
10. Foreign Economic Policy Strategies and Economic Performance
11. Japan's Asia / Asia-Pacific Policy in Flux
12. Okinawa Bases and the U.S. – Japan Alliance
13. Japanese Historical Memory
14. Japan's Failed Bid for a Permanent Seat on the UN Security Council
15. The Stakeholder State: Ideology and Values in Japan's Search for a Post-Cold War Global Role
The Fukushima Daiichi Nuclear Power Station Disaster: Investigating the Myth and Reality (RJIF)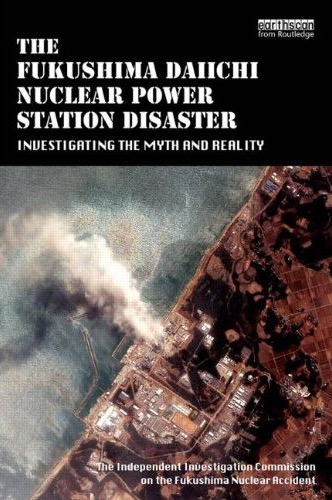 The Fukushima Daiichi Nuclear Power Station Disaster is an independent analysis of the causes of the second worst nuclear accident in history, and TEPCO's failure to contain damage. Written from a civilian perspective, the book is the result of an independent commission established by RJIF in 2011 that conducted over 300 investigative interviews to collect testimonies from relevant individuals at the forefront of the disaster, including incumbent ministers and top government officials.
Author: The Independent Investigation Commission on the Fukushima Nuclear Accident
Publisher: Routledge
Paperback: 298 pages
First Published: February 20, 2014
ISBN: 978-0415713962
Foreword by Kennette Benedict
Prologue
1. A Fukushima Diary, March 11-16, 2011
2. Nuclear Energy Development in Japan
3. The Safety Myth
4. Actors in Japanese Nuclear Safety Governance
5. International Safety
6. Accident Preparedness and Operation
7. Impact of Radioactive Material Released into the Environment
8. Communicating the Fukushima Disaster
9. US-Japan Relationship
10. Lessons of the Fukushima Daiichi Nuclear Power Station Accident and the Quest for Resilience
Epilogue
Quiet Deterrence: Building Japan's New National Security Strategy (RJIF)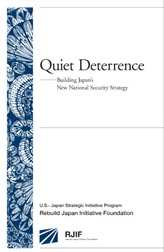 Designed as an alternative to the National Security Strategy that the Japanese government endorsed in 2013, this book recommends Japan to strengthen its stance of "quiet deterrence" and emphasizes the need to strike a new and balanced strategy amid the turbulence of 21st century geopolitics.
Author: U.S.-Japan Strategic Vision Program
Rebuild Japan Initiative Foundation
Publisher: Rebuild Japan Initiative Foundation
First Published: July, 2014
Preface
Foreword and Assessment Kurt M. Campbell and Michael J. Green
Introduction
Chapter 1 Japan in the New Strategic Environment
Chapter 2 Strategizing Japan's National Interest
Security Dimension
Economical Dimension
Normative Dimension
Chapter 3 Advancing Japan's Security Strategy
National Defense Policy
Japan-U.S. Alliance
Alliance Plus-One, Alliance Plus-Sum and Regional Cooperation
Global Engagement
Chapter 4 Strategy in Action
Japan in Peril? : 9 crisis scenarios (RJIF)
We initiated the "Crisis Management Project" in May 2012 after discovering the vulnerabilities of Japan's system for dealing with crises through RJIF's inaugural project, "The Independent Investigation Commission on the Fukushima Nuclear Accident". This initiative sketched out nine worst-case crisis scenarios that could be trigged by an "unexpected" incident and that can easily escalate (e.g. natural disasters, terrorism, or military clashes) and evaluated the current crisis management system and its outstanding issues.
Author: Rebuild Japan Initiative Foundation
Publisher: CLSA
Paperback: 199 pages
First Published: February 20, 2014
ISBN: 978-988-98942-6-9
일본 최악의 시나리오 9개의 사각지대
(Japan in Peril? : 9 crisis scenarios) (RJIF)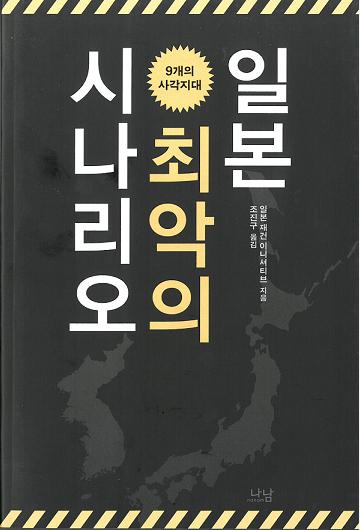 Author: 일본 재건 이니셔티브(Rebuild Japan Initiative Foundation)
Publisher: NANAM Publishing House
First Published: February 26, 2015
Language: Korean
ISBN: 978-89-300-8746-9
Preface
Part 1: Disaster Scenarios
1. Island dispute: Confrontation over Senkaku
2. Financial meltdown: Japan suffers boiling-frog syndrome
3. Tokyo quake: Collapse of amazon.com society
4. Cyberterrorism: Urban infrastructure under attack
5. Pandemic: The day the doctors disappeared
6. Energy crisis: Strait of Hormuz blocked
7. Collapse of North Korea: Japan's non-nuclear principles waver
8. Nuclear terrorism: Did we learn anything from 3/11?
9. Shrinking population: Japan's youth turn into terrorists
Part2: What the Scenarios Tell Us
10. Legal framework
11. Coordination between state and private sector for managing risks
12. Cross-border strategies
13. Role of the Prime Minister's office
14. Communication