UMADA Takaaki published Implementing the Future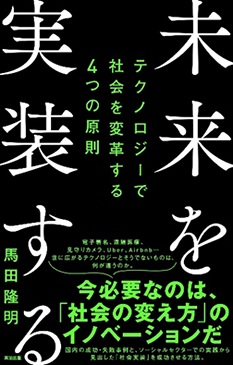 On January 24th, 2021, UMADA Takaaki, Chair of API's Social Implementation of Technology project, published Mirai wo Jisso Suru [Implementing the Future] with Eiji Press in Japanese. This book provides the result of studies and interviews collected by API's working group on Japan's "social implementation" – or the diffusion of technology – conducted from April 2019 to August 2020. It also includes proposals and a framework for better social implementation in Japan based on this research.
Asia Pacific Initiative Forum 2020 Virtual Event

Asia Pacific Initiative (API) held the Asia Pacific Initiative Forum (APIF) 2020 as a virtual event broadcasting from Yokohama on December 4-5th, 2020.
APIF is an invite-only forum which aims to look forward 30 years into the future of Asia and create a new innovative ecosystem together with business leaders mainly from Japan, India, and the ASEAN countries. We seek to become an exchange platform, developing synergies through innovative ideas and the endeavors of our participant companies.
With the vision of "Articulating Asian Ideas", discussions were held regarding Asia's multi-dimensional prosperity, as the COVID-19 pandemic has raised the need for a fundamental rethink of existing economic and social frameworks.
More information about the event
Report on Japan's response to COVID-19

"The Independent Investigation Commission on the Japanese Government's Response to COVID-19", established by Tokyo-based think tank "Asia Pacific Initiative (API)", has led an investigation into the Japanese government's response to COVID-19. A book containing the investigation's results, "The Independent Investigation Commission on the Japanese Government's Response to COVID-19: Report on Best Practices and Lessons Learned", was published in Japanese by Discover 21 on October 18, 2020 (Electronic Book) and October 23, 2020 (Paper Book). The English version of the report was published on January 8, 2021 and made available online.
More information on the project and the publication
Inaugural Symposium of Policy Entrepreneur's Platform (PEP)

Asia Pacific Initiative (API) organized a symposium called "Zooming PEP 2020 – Policy Entrepreneurs' Platform: opening the door" in Tokyo on 15th July 2020. It was held to commemorate the launch of API's new initiative: The Policy Entrepreneur's Platform (PEP).
The day began by a core panel discussing the concept of policy entrepreneurship and then sessions considering issues arising from the emergence of the pandemic and the impact and possible changes to Japanese society post-pandemic. Politicians, bureaucrats and representatives from the private sector, academia and NPOs/NGOs participated in the discussions which were summarized by API Chairman Funabashi in closing the proceedings. The symposium was broadcast on YouTube and was watched by about 800 viewers.
Information about the sessions are available via this link and the YouTube video of the whole symposium is available via this link.
◾️Information about Panelists & Sessions
◾️Policy Entrepreneur's Platform Website
AP Initiative Updates
About一般財団法人 アジア・パシフィック・イニシアティブ
アジア太平洋の平和と繁栄を追求し、この地域に自由で開かれた国際秩序を構築するビジョンを描くことを目的とする非営利の独立系シンクタンクです。2011年9月に設立した一般財団法人日本再建イニシアティブ(RJIF)の5年以上の活動を基盤に拡大改組し、第2のステージへ向け2017年7月にスタートさせました。