【Added on April 20, 2022】Due to current project needs, we are now only accepting applicants who have at least N2 (upper-intermediate) or equivalent level of Japanese. We will also be suspending the acceptance of applications from those who live outside of Japan at this time.
API offers full-time and part-time internships for undergraduates, postgraduate students, and recent graduates who are interested in gaining practical experience at a public policy think tank. Under the supervision of project managers, interns participate in a variety of activities that support individual programs, including research, writing, editing, project development, project management and outreach activities. We currently only offer unpaid internships for those who live outside of Japan.
INTERNSHIP OPPORTUNITIES
Instructions for Applicants

At API, we do not offer a generic internship program and instead we ask applicants to select an internship spot for a specific program. The individual project managers will review internship applications and interview those selected.

Eligibility

Applicants

Must be at least a college junior in good standing, a postgraduate student or a recent graduate;
Must be eligible to work for API (e.g., proper visa in the case of foreign nationals);
Must have at least a basic level of Japanese;
Must have adequate PC skills with a remote-working setup at home (including password-protected Wi-Fi and a PC equipped with Excel, PowerPoint and antivirus software)

Terms and Conditions

Duration: More than 6 months
Work hours: More than 2 days per week as per agreed work schedule
Remuneration: ¥1100~ (¥1300~ for graduate students)
Work place: Remote work (unless otherwise instructed)

Applications

Please submit the following information in PDF format to . Before submitting your application, please read our privacy policy and understand that we will use your personal information only for the purpose of this application. When you send the email, please send it from your university email account (not from a free email account such as Gmail). We do not accept ZIP files.

Proposed period of internship (including the earliest possible start date)
CV and cover letter (please look at API's website and indicate all of the projects you are interested in)
Short essay discussing your opinion on a current issue (up to 300 words)

We will only contact applicants short-listed for interviews.

Inquiries

If you have any questions, please contact us at .
Internship Experience
---
"Learning through Helping Europe and Japan Move Forward Together"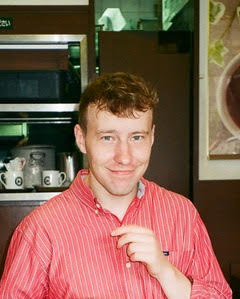 Thomas Stables|May 2021-
Waseda University, Graduate School of Asia Pacific Studies
Project:Liberal International Order (LIO)
What made you apply for the internship opportunity at API?
In September 2019, I was given the opportunity to study in Japan on a Monbukagakusho (MEXT) scholarship, in order to undertake an MA in International Relations at Waseda Universities' Graduate School of Asia Pacific Studies. Previously, during my undergraduate studies, I was fortunate enough to gain work experience through volunteering in the economic development department of S.K.I.P- an NGO dealing with poverty alleviation in Trujillo, Peru. I had also been fortunate enough to spend a short period gaining work experience in the UK Parliament, working for an MP. Both experiences left me feeling that many of the world's most pressing issues are global, both in scope and in scale, and cannot be solved by one country alone.
Furthermore, my undergraduate studies in politics and international relations at the University of York had caused me to feel that the most important region for understanding and solving the world's most pressing problems over the next century will be the Asia/Indo-Pacific region, due to its increasing centrality in international affairs. I therefore felt it important to better understand the region, alongside feeling a sense of moral duty to participate in maintaining global peace and prosperity in an increasingly volatile geopolitical climate.
In March 2021, I came across an excellent article written by Dr. Funabashi in The Japan Times and found myself wanting to know more about API, which he was representing in his piece. This led me to discover more about the foundation, its origins in seeking accountability over the handling of the 2011 Fukushima Disaster; and its various projects that have developed over time. I felt inspired to try to get involved. One aspect of API's ethos that particularly appealed to me was API's mission statement, which consists of three branches: "Liberalism, Innovation, and Policy Entrepreneurship". These core values run through everything that API does, allowing the foundation to address a wide range of public and foreign policy issues through a flexible, innovative, and value-driven approach.
What were your assignments in this internship?
My core internship assignments so far have been assisting in the Liberal International Order project, alongside conducting research for Dr Funabashi's Research Assistant.
Both assignments have brought with them engaging yet varied roles. To me, participating in both tasks have showcased the very best of API's ability to cooperate with international partners and think originally about global affairs, despite the ongoing challenging conditions of the pandemic.
Within the Liberal International Order project, I have had the opportunity to attend meetings with and listen to experts and leaders in their respective fields across Asia and Europe. My role has largely consisted of taking down the minutes; conducting research for the project; and reviewing potential publishing options for the projects' second volume. It has been inspiring to take part in the meetings and listen to experts in their respective fields articulate the key challenges in propagating, maintaining, and evolving the liberal international order in an increasingly unpredictable geopolitical climate.
Likewise, the opportunity I have had to work with Dr Funabashi's Research Assistant has allowed me to conduct research across a wide range of topics: from foreign policy initiatives in the Asia Pacific; to the Fukushima Nuclear Disaster; to the effects of the pandemic on global politics. I have also occasionally had the chance to get involved in speech writing and other similar activities.
What has been your most memorable event during the internship?
For me, rather than any one single event, the most memorable part of the internship so far has been the Liberal International Order meetings. It is really inspiring to observe experts and leaders across a range of cultures and backgrounds work together in order to think about a common set of beliefs and ideas, centred around a particular pressing global issue.
What I have found so interesting about observing the meetings is how those very ideas and beliefs subsequently transform over time into a body of work that can help shape the normative and ontological context by which policymakers may potentially articulate the environment in which they make decisions; as well as what decisions are available to them. In this sense, one experiences first-hand the tangible relationship between ideas and political action, which is both fascinating to see and exciting to play a small part in.
What is your take away from your internship experience?
As we edge towards the first quartile of the 21st century, one could be forgiven for losing oneself in a sense of pessimism with regard to the anarchic nature of the international system and the perceived inability of global actors to maintain global peace, order, and stability. The concoction of pandemics; threats of conflict and violence; economic and political coercion; and ecological crisis/crises could contribute to a belief within oneself that the world is turning in on itself, and that humanity is bound to a race to the bottom.
My time at API however paints a very different picture. I will, of course, take away many important practical skills and experiences: a better understanding of how think tanks operate; gaining insight into the way in which ideas relate to and inform policymaking; critical experience in learning from and working alongside people of different cultures and backgrounds; and skills in communication and research (alongside many other things).
The thing that I will take away which I shall value the most from my internship experience however is a sense of optimism- both about the capacity of people to articulate constructive paths through complicated global issues, as well as the ability of people from different cultures and backgrounds to work together to solve problems through an innovative, yet value-driven approach. In many ways, what API represents is the notion that where there are intelligent, open-minded, and driven individuals who are passionate about maintaining peace, prosperity, and order in the Asia Pacific region, there is ample chance to make the world a better place.
Your message to future Interns
It has been said by an intern before myself, but it is the most fitting word to use to I shall steal it- inspiring!
---
"Constantly thriving and always learning more at an extremely challenging pace"
Jorel CHAN|2015 August-2015 October
Singapore Durham University, School of Government and International Affairs|早稲田大学大学院アジア太平洋研究科進学
Project: Diplomacy & Security program
How did this internship opportunity at RJIF arise for you?
In the summer of 2014, I had travelled to Japan for a summer school in Hiroshima on nuclear disarmament, after which I volunteered at various disaster-hit areas across Fukushima, conducting research interviews with the refugees for my university thesis on Japan's post-3.11 humanitarian and energy security issues. During my transit in Tokyo, I had the chance to meet Ms. Wakugawa, research manager at RJIF, where we discussed my ongoing humanitarian engagements as well as my academic background in international relations, specifically in East Asian regional security. As I had always been interested in a pursuing a career with a think-tank in Asia, an internship with RJIF presented itself as a thoroughly invaluable opportunity which I gladly accepted. I commenced my internship with RJIF in the summer of the following year, and will be resuming work with the organization in the spring 2016, alongside pursuing a Masters in International Relations at the Graduate School of Asia-Pacific Studies in Waseda University, Tokyo on the Monbukagakusho research scholarship awarded by the Japanese government.
What were your internship assignments?
I was assigned to the Diplomacy & Security program, where we handle foreign affairs pertaining to Japan's national security. Work at RJIF can be categorized in three general types: organization-related, forum-related and research-related work.
Organization-related work involves assisting the organization with internal administrative tasks such as copywriting and editorial work for our own publications before they are produced, updating the website which includes layout formatting and translations, as well as discussing media strategies for the organization's outreach and potential development.
As a think-tank that specializes in convening key stakeholders of their respective disciplines through organizing forums such as the Sasakawa USA Emerging Experts Delegation (SEED), as well as our annual Military Statesmen Forum (MSF) as bilateral channels for informal diplomacy, forum-related work therefore involves corresponding and liaising with the secretary offices of policymakers and parliamentarians for scheduling purposes, brainstorming and drafting the forum agenda and profile materials, and preparing all logistics – venue, transport, documents, seating arrangements among others – for the forum itself.
In order for us to ensure that every forum's scope remains relevant to facilitate productive dialogue, we are regularly involved in research-related work, such as attending talks ranging from trilingual academic presentations discussing China's brand of capitalism, to security exchanges like the German-Japan Defense Industrial Forum. Not only do these events supplement our understanding of the pertinent issues at hand, but they are ideal platforms to strengthen our networks by meeting new personnel involved in research related to our work.
What was your most memorable event during the internship?
The most memorable event during my internship with RJIF has to be preparing the SEED forum between a delegation of U.S. academics and Japanese politicians, where I was given the opportunity to shadow my mentor on her visit to Kasumigaseki to call on these Japanese politicians whom we had invited for the forum. This was the first time I entered the grounds of the Japanese government for official visit, most memorably the House of Representatives where the parliamentarians' offices resided, which too offered a full view of the Diet building across the main street! For me, as a Singaporean, it was nothing short of a privilege and honor to be privy to the internal venues of Japan's key political institutions, all as part of RJIF's work in bringing together delegates from Japan and the U.S., the two major powers that comprise the single most significant alliance structure existing in our world today.
What did you take away from your internship experience?
As the world of current affairs constantly evolves, especially so here in the Asia Pacific, the fast-paced work every single day necessarily means that we are all responsible for keeping ourselves updated on the latest security developments around the region. Personally, working at RJIF drove home a practice of reading the news not only regularly but critically, to understand the unfolding of events in light of regional interactions. Nonetheless, it has also exposed me to a wealth of practical experiences in many disciplines that have challenged me on various fronts. Notwithstanding the research work for which a university education has well-adjusted me for, the assignments I was tasked with has taught me valuable skillsets in various important areas such as formal correspondences, webpage layout formatting, administrative scheduling, proofreading of manuscripts, secretarial note-taking of minutes, and of course, two-way translations of diplomatic, military, and parliamentary vocabularies, all of which I have grown immensely from.
All of this I attribute to the fact that RJIF remains a visionary organization with thoroughly capable, driven and open-minded individuals, where I was entrusted with great responsibilities from the very start, that have sought to challenge me and help me grow, not only as a research staff of this think-tank but personally as an individual as well. Here is a work environment where I find myself constantly thriving and always learning more at an extremely challenging pace. It is this responsibility that makes coming to work always a joy, knowing that the work I do here at RJIF that seeks to address ever-changing security landscapes, is all part of actively contributing to keeping the peace in our Asia Pacific.
One word!
Inspiring.
Gallery