Historical Review of Moderate Conservatism in Japan

Project Overview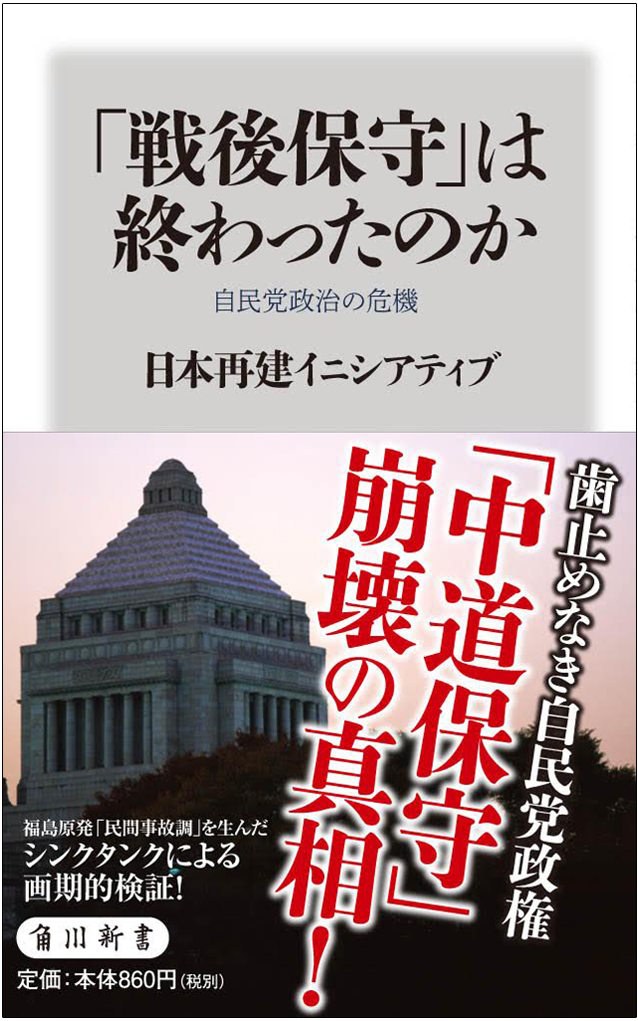 In October 2014, RJIF launched the "Historical Review of Moderate Conservatism in Japan" as the latest iteration of its "Critical Review of the DPJ Government" project.
The Review is timely. November 2015 marked the 60th anniversary of the establishment of Japan's Liberal Democratic Party (LDP). "Moderate Conservatism", that characterized the LDP after World War II, began a decline in the 1990s during the Koizumi era and is being more pronounced during the second Abe administration. The LDP is now changing and drifting from its traditional role as the "national political party."
This project therefore aims to critically examine how political party democracy and "Moderate Conservatism" in Japan have shifted during these years. Our goal is to offer practical suggestions that will contribute to the revitalization of "Moderate Conservatism" necessary for Japan's future.
We gathered a team of leading academic experts in Japan and overseas to serve as authors for the project's final publication. The team interviewed twenty key individuals that played major roles in the LDP and had significant influence during these transitional years away from "Moderate Conservatism". Interviewees include former Prime Ministers, Cabinet members, LDP leaders and bureaucrats. The interviews reflected a broad array of subjects – their political beliefs, behind-the-scenes politics, opinions regarding the future of Japanese policy and more. The output, entitled "The decline of Postwar Moderate Conservatism in Japan" was published in Japan from Kadokawa-Shinsho on November 15, 2015.
Interviewees:
Hearings: Held from January 7th 2014 to August 10th 2015
Titles: as of August 2015
All the members of the House are LDP members unless otherwise specified
INOGUCHI, Kuniko
Member, the House of Councilors
Former Minister of State for Measures for Declining Birthrate and Gender Equality
ONODERA, Itsunori
Member, the House of Representatives
Former Minister of Defense
KABASHIMA, Ikuo
The governor of Kumamoto Prefecture
KONO, Yohei
Former Speaker of the House of Representatives
Former President of the LDP
KOMURA, Masahiko
Member, the House of Representatives
the Vice-President of the LDP
KOGA, Makoto
Former Minister of Transport
Former secretary general of the LDP
SHIRAKWA, Katsuhiko
Former Minister of Home Affairs
SEKO, Hiroshige
Member, the House of Councilors
Deputy Chief Cabinet Secretary
TAKEI, Shunsuke
Member, the House of Representatives
TANAKA, Shusei
Former chief of the Economic planning Agency (New Party Sakigake)
NUKAGA, Fukushiro
Member, the House of Representatives
Former Minister of Finance
NODA, Seiko
Member, the House of Representatives
Former Chairperson of the LDP General Council
NONAKA Hiromu
Former Chief Cabinet Secretary
Former Secretary General of the LDP
HAYASHI, Yoshimasa
Member, the House of Councilors
Minister of Agriculture, Forestry and Fisheries
HIRANUMA, Takeo
Member, the House of Representatives
Chairperson of the Party for Future Generations
FUKUDA, Yasuo
The 91st Prime Minister of Japan
Former President of the LDP
FURUKAWA, Teijiro
Former Deputy Chief Cabinet Secretary
MURAYAMA,Tomiichi
The 81st Prime Minister of Japan
Honorary chairperson of the Social Democratic Party
MORITA, Hajime
Former Minister of Transport
YAMASAKI, Shiro
Commissioner, Secretariat of the Headquarters for Overcoming Population Decline and Vitalizing Local Economy in Japan
Authors

(Project Leader, Introduction and Overview)
NAKANO, Koichi
Professor of Political Science, Faculty of Liberal Arts, Sophia University.
Prof. Nakano specializes in the comparative politics of advanced industrial democracies, particularly Japan and Europe, and in political theory. He has a B.A. in philosophy from the University of Tokyo, a second B.A. in philosophy and politics from the University of Oxford, and an M.A. and a Ph.D. in politics from Princeton University. His research has focused on a variety of issues of contemporary Japanese politics from comparative, historical, and philosophical perspectives, including neoliberal globalization and nationalism; the Yasukuni issue; amakudari and administrative reform in Japan; decentralization; the cross-national transfer of policy ideas; and the changing nature of conservatism in postwar Japan. In English, he has published articles in The Journal of Japanese Studies, Asian Survey, The Pacific Review, West European Politics, Governance, and a single-authored book entitled Party Politics and Decentralization in Japan and France: When the Opposition Governs (Routledge, 2010) among others. In Japanese, his publication includes Sengo Nihon no Kokka Hoshushugi: Naimu/Jichi Kanryo no Kiseki (Postwar State Conservatism in Japan: A Study of the Bureaucrats of the Ministry of Home Affairs) (Iwanami Shoten, 2013), and Ukeikasuru Nihon Seiji (Rightward Shift of Japanese Politics) (Iwanami Shinsho, 2015).
---

(Chapter 1)
MURAI, Tetsuya
Part-time Lecturer, the School of Law, Meiji University
Dr. Tetsuya Murai specializes in post-World War II political history in Japan, in particular the prime minister system and bureaucracy system. His main writings include "The Origin of the Political System in Postwar Japan: Shigeru Yoshida and the Prime Minister Initiative."
---

(Chapter 2)
NAKAKITA, Koji
Professor of Politics, Graduate School of Social Sciences, Hitotsubashi University
Koji Nakakita received his Ph.D. from the University of Tokyo in 1997. Before joining the Hitotsubashi faculty in 2011 he was a member of the department of politics at Rikkyo University for ten years. Professor Nakakita is a specialist of the politics and history of contemporary Japan and the author of the following books: The Politics of Economic Reconstruction in Postwar Japan (1998), The Establishment of the 1955 System in Japanese Politics (2002), Japanese Labor Politics in the Context of International History (2008), Party Democracy in Contemporary Japan (2012), The transformation of Japan's LDP (2014) all written in Japanese.
---

(Chapter 3)
UCHIYAMA, Yu
Professor of Political Science, Department of Advanced Social and International Studies, the University of Tokyo
Prof. Uchiyama specializes in Japanese politics and comparative politics of advanced democracies. Formerly he was an associate professor at Tokyo Metropolitan University, a visiting scholar at Massachusetts Institute of Technology, and a visiting academic at School of Oriental and African Studies, University of London. Prior to entering the academic world, he worked at then Ministry of International Trade and Industry (currently Ministry of Economy, Trade and Industry). He obtained his Ph.D. from the University of Tokyo. His single-authored books include Koizumi and Japanese Politics: Reform Strategies and Leadership Style (Routledge, 2010), Koizumi Seiken (The Koizumi Administration)(Chuo Koron Shinsha, 2007), and Gendai Nihon no Kokka to Shijo (Changing State-Market Relations in Japan)(the University of Tokyo Press, 1998). He has been leading a research project on the roles of expertise in politics, and co-edited a book titled Senmonsei no Seijigaku (The Politics of Expertise)(Minerva Shobo, 2012). Other books he coauthored include: Decoding Boundaries in Contemporary Japan: The Koizumi Administration and Beyond (Routledge, 2011); The Future of the Multilateral Trading System: East Asian Perspectives (Cameron May, 2009); and Germany and Japan after 1989: Reform Pressures and Political System Dynamics (Institute of Social Science, University of Tokyo, 2009).
---

(Chapter 4)
LIND, Jennifer
Associate Professor of Government, Dartmouth College
Faculty Affiliate at the Reischauer Institute for Japanese Studies, Harvard University
Prof. Lind's research focuses on the international security relations of East Asia. She has a B.A. from the University of California, Berkeley, an M.P.I.A. from the School of Global Policy & Strategy at the University of California, San Diego, and a Ph.D. In political science from the Massachusetts Institute of Technology.
Prof. Lind's research has engaged several key questions in East Asian international relations, including the future of Japanese security policy, the security implications of democratization, and the stability of the Korean peninsula. Her first book, on memory and international reconciliation, was Sorry States: Apologies in International Politics (Cornell University Press, 2008). Prof. Lind has published her research in scholarly journals such as International Security and International Studies Quarterly. She has also written widely on these topics in the popular press, such as in Foreign Affairs, The Wall Street Journal, and The New York Times, and has been quoted extensively in the Japanese and global media. Prof. Lind's most recent book project examines the economic and military obstacles that countries must overcome to become a great power.
---

(Chapter 5)
OSAKA, Iwao
Part-time Lecturer, College of Law and Politics Rikkyo University
Osaka graduated from the Graduate School of Law and Politics in the University of Tokyo, where he had also formerly worked as an assistant for the university. He specializes in modern Japanese politics and political communication. His publications include "Japanese Politics and Media", "Political Science", and "Telepolitics", amongst other works.
---
(Chapter 6)
MIYAGI, Taizō
Professor, Faculty of Global Studies, Sophia University.
Born in 1968. Was a journalist with NHK after earning a degree in law from Rikkyō University. Went on to graduate school at Hitotsubashi University. Was an associate professor at the National Graduate Institute for Policy Studies before taking his present position. Works include "Kaiyō kokka" Nihon no sengoshi (Japan's Postwar History as a Maritime State) and Sengo Ajia chitsujo no mosaku to Nihon: "Umi no Ajia" no sengoshi 1957–1966 (Japan and Southeast Asia in the Quest for Order: The Cold War, Decolonization, and Development, 1957-1966).
---

(Chapter 7)
SUGINOHARA, Masako
Associate Professor, Faculty of Global and Inter-cultural Studies, Ferris University
Masako Suginohara studied political science and international relations at the University of Tokyo (B.A. and M.A.) and Columbia University (Ph.D.). Her research interest is in political constraints on economic policies in a globalizing world. Her recent publications include "The Future of Political Clientelism in Europe and Japan," in Nuove strategie per lo sviluppo democratico e l'integrazione politica in Europa (2014), "International Network of Policy Experts and US-Japan Financial Negotiations" in Politics of Expertise, (Minerva, 2012, in Japanese), and "The Politics of Economic Nationalism in Japan: Backlash against Inward Foreign Direct Investment?" Asian Survey, Vol. 48, No.5 (2008).
---

Editor
OHNOKI, Yoshinori
Born in 1950, he began his career at The Asahi Shimbun in April 1974. As a journalist, he was mainly involved in reporting financial policies and economic activities and advanced through a series of editorial posts, including Deputy Editor of the Economic News Dept., Editor of the online news site "asahi.com," and Editor of the paper's weekend supplement "be."
He was a member of the Editorial Board from 2006, and Director of the Editorial Board from 2010 to 2012.
---

Program Director
FUNABASHI, Yoichi
Chairman of the RJIF
Former Editor-in-Chief , The Asahi Shimbun
Distinguished Guest Professor, Keio University
Yoichi Funabashi is Chairman of the Rebuild Japan Initiative Foundation and a former Editor-in-Chief for the Asahi Shimbun. He is a contributing editor of Foreign Policy (Washington, DC).
He served as correspondent for the Asahi Shimbun in Beijing (1980-81) and Washington (1984-87), and as American General Bureau Chief (1993-97). In 1985 he received the Vaughn-Ueda Prize for his reporting on international affairs. He won the Japan Press Award, known as Japan's "Pulitzer Prize", in 1994 for his columns on foreign policy, and his articles in Foreign Affairs and Foreign Policy won the Ishibashi Tanzan Prize in 1992.
His books in English include The Peninsula Question (Brookings Institute, 2007); Reconciliation in the Asia-Pacific, ed. (USIP, 2003,); Alliance Tomorrow, ed. (Tokyo Foundation, 2001); Alliance Adrift (Council on Foreign Relations Press, 1998, winner of the Shincho Arts and Sciences Award); Asia-Pacific Fusion: Japan's Role in APEC (Institute for International Economics, 1995, winner of the Mainichi Shimbun Asia Pacific Grand Prix Award); and Managing the Dollar: From the Plaza to the Louvre (1988 winner of the Yoshino Sakuzo Prize).
His recent articles and papers in English include: "Fukushima in review: a complex disaster, a disastrous response"(Bulletin of the Atomic Scientists, March/April 2012); "Lessons from Japan's nuclear accident" (East Asia Forum, 26 March 2012); "The end of Japanese illusions"(New York Times, 11 March 2012); "My findings in Japan's existential fallout" (Financial Times, 9 March 2012); "Challenges for Rising Asia and Japan's Role" (Yale Global Online, September 2010); "Forget Bretton Woods II: the Role for U.S.-China-Japan Trilateralism" (Washington Quarterly, April 2009); "No One Model for Global Economy" (Yale Global Online, March 2009); "Keeping Up With Asia" (Foreign Affairs, September/October 2008); "Power of Ideas: The US is Losing its Edge" (Global Asia, Fall 2007); "Stuck on the Sidelines", (Newsweek International, 5 March 2007); "Koizumi landslide: the China factor" (Yale Global Online, 15 September 2005); "The world should also have a vote"(International Herald Tribune, 25 March 2004); "Koizumi opens a Pandora's box"(Financial Times, 7 January 2004); "China is preparing a 'peaceful ascendancy' " (International Herald Tribune, 30 December 2003); "Learning from five years of trialogue" (China-Japan-US: Meeting New Challenges, 2002); "Northeast Asia's strategic dilemmas" (Assessing the Threats, 2002); "Asia's digital challenge"(Survival, Spring 2002); "Japan's unfinished success story" (Japan Quarterly 2001); "Japan's moment of truth" (Survival, Winter 2000-01); "International perspectives on national missile defense: Tokyo's temperance" (The Washington Quarterly, Summer 2000); "Tokyo's depression diplomacy" (Foreign Affairs, November / December 1998); "Thinking trilaterally" (China-Japan-US: Managing the Trilateral Relationship, 1998); and "Bridging Asia's economics-security gap" (Survival, Winter 1996-97).
He received his B.A. from the University of Tokyo in 1968 and his Ph.D. from Keio University in 1992. He was a Nieman Fellow at Harvard University (1975-76), a visiting Fellow at the Institute for International Economics (1987), a Donald Keene Fellow at Columbia University (2003), and a visiting professor at the University of Tokyo Public Policy Institute (2005-2006).
---

Staff Director
TAWARA, Kentaro
Sequedge Group
Former RJIF Chief Administrative Officer/Fellow(-Sep.2015)
Joined Nippon Credit Bank in April 1988 where he was in charge of corporate finance and debt restructuring projects such as Euro Disney at its head office and London branch. After his next career at Daiwa Securities SMBC from February 2001 as corporate turnaround advisor, he participated in the management of Sequedge Group in November 2002. Since then he has been managing a variety of businesses in which the Group invested, such as a nursing home operator, a hospital turnaround consulting firm and an Italian luxury fashion brand. B.A. in Engineering at University of Tokyo (1988) and M.Phil. in Land Economy at University of Cambridge (1993).
---