JAPAN-U.S. MILITARY STATESMEN FORUM 7 June – 9 June 2015, Washington, D.C.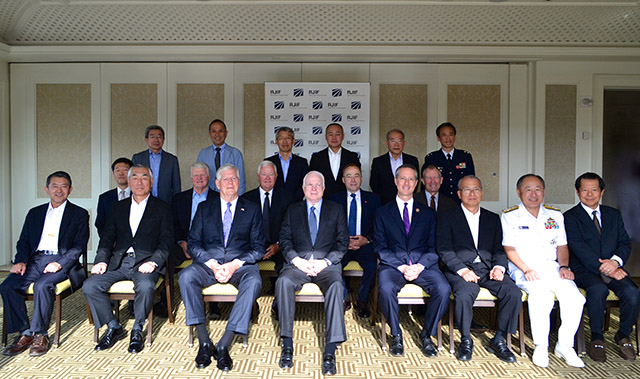 The second conference of the Rebuild Japan Initiative Foundation's Japan-U.S. Military Statesmen Forum (MSF) was held in Washington, D.C., from June 7th-9th, 2015. This year, the forum met to discuss the theme of "Revival of Geopolitics and the U.S.-Japan Alliance", bringing together nearly twenty former high-ranking leaders from the American military and Japanese Self-Defense Forces. Among the pressing issues discussed were maritime security in the South China Sea, the Korean Peninsula, and the implications of the recent revisions to the guidelines for U.S.-Japan defense cooperation. Other topics included Japan's changing position on collective self-defense, space and cyber security, and civil-military relations.
This year, RJIF was pleased to have Senator John McCain and Congressman Mac Thornberry join the conference to provide their insights on the role of the U.S.-Japan Alliance in maintaining a stable and prosperous East Asia. His Excellency Amb. Kenichiro Sasae also hosted a dinner attended by Chief of Naval Operations Adm. Jonathon Greenert. At the closing dinner on the 9th, Asst. Secretary of Defense for Asia and Pacific Security Affairs David Shear gave a keynote on U.S. rebalance to the Asia-Pacific region. By reaffirming the links between retired senior military leaders of both countries, the second MSF successfully fostered an environment for exchange and dialogue, channeling received wisdom from these experienced veterans of U.S.-Japan cooperation to active-duty service personnel on both sides of the Pacific.