The Institute of Geoeconomics (Kazuto Suzuki, Director, Institute of Geoeconomics) is pleased to announce that recorded audio of the Geoeconomic Agenda, "Rethinking China's Belt & Road with Eyck Freymann," and its transcript are now available. Geoeconomic Agenda is a new Pacific-centric, globally-minded podcast that investigates the connections between economics, geopolitics, business, and society. Hosted by Paul Nadeau, Geoeconomic Agenda will feature interviews with guests from across the Asia-Pacific region and beyond, from the policy world, academia, business, and more.
API/IOG English Newletter (in preparation)
Edited by Paul Nadeau, the newsletter will keep up to date on geoeconomic agenda, IOG Intelligencce report, geoeconomics briefings, IOG geoeconomic insights, new publications, events, research activities, media coverage, and more. Approximately once every two weeks.
Transcript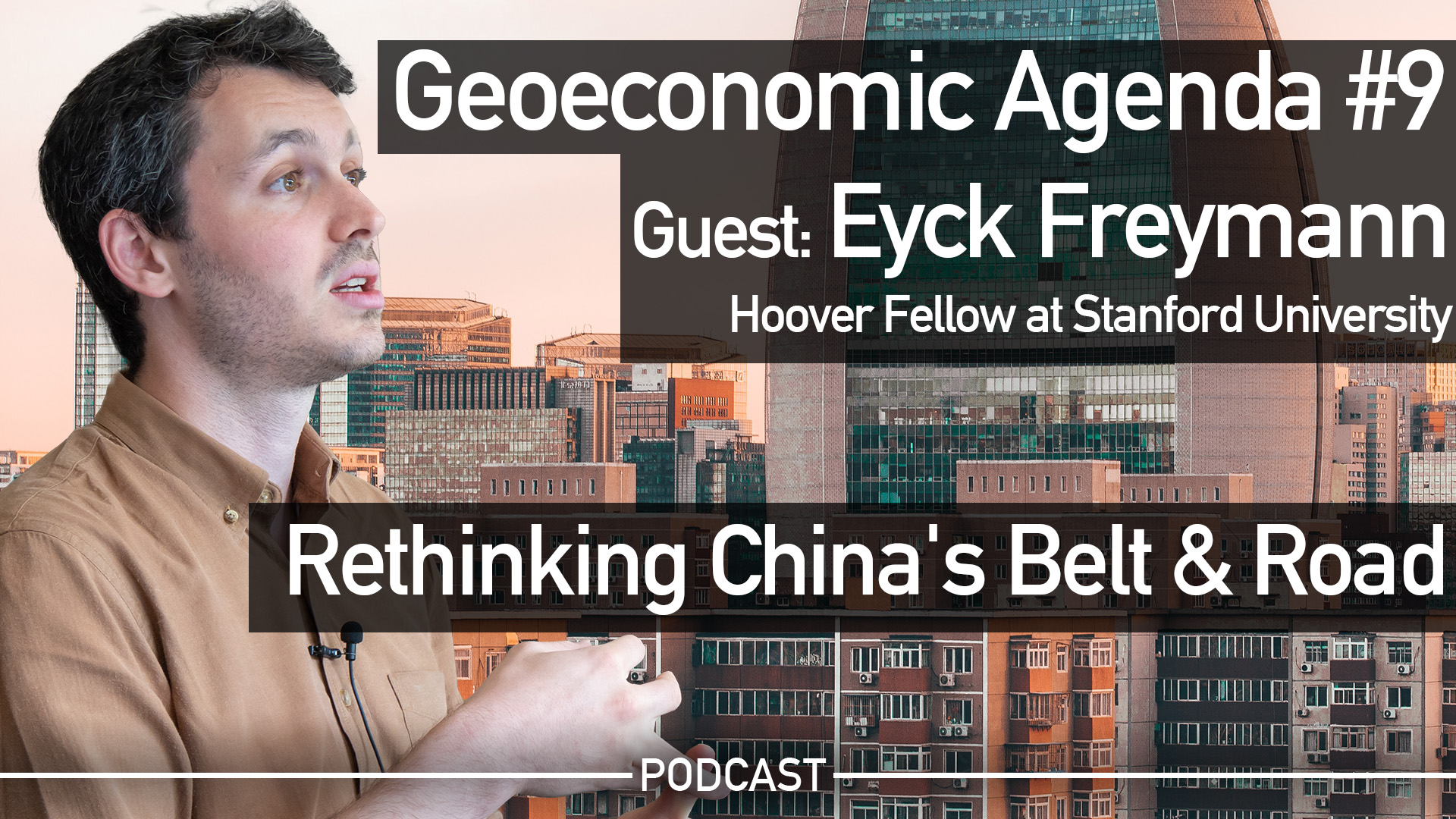 August 20, 2023 (auto-generated by otter.ai)
Paul Nadeau
Hello and welcome to this episode of the Geoeconomic Agenda podcast from the Institute for Geoeconomics of the Asia Pacific Initiative in Tokyo that investigates the connections between economics, politics, business and society. I'm your host, Paul Nadeau, and I'm a visiting researcher here at the IOG. In a moment, we'll sit down with Dr. Eyck Freymann and fellow at the Hoover Institution, and author of One Belt One Road: Chinese power meets the world, to talk about where OBOR fits in with China's global ambitions. But first, here's the latest news from the world of geoeconomics.
On July 3rd, the Chinese government announced that it would impose export controls on two critical minerals, gallium and germanium, starting on August 1 under a December 2020 law designed to prohibit the export of advanced technologies with military applications. Exporters will need to apply for a license from the Chinese Ministry of Commerce if they want to export these minerals from China. These controls will affect the production of semiconductors, defense equipment, and communications equipment around the world. Since the two minerals are largely sourced from China, the restrictions are widely believed to be in retaliation for export controls by the United States toward China on advanced semiconductor production equipment in 2022.
US Secretary Janet Yellen visited Beijing from July 6th to the 9th during her visit, she met with Premier Li Qiang, Vice Premier He Lifeng, who holds responsibility for financial and economic affairs, Finance Minister Liu Kun and the head of the People's Bank of China Pan Gongsheng. Well, there was no major agreements or breakthroughs during her visit, Secretary Yellen expressed hope that her visit would in her words "help build a resilient and productive channel of communication with China's new economic team."
On July 17th, Russia left a deal to allow for the safe export of grain through the Black Sea and also informed the International Maritime Organization, the UN agency that oversees international shipping, that it could no longer guarantee the safe navigation of ships. The Black Sea Grain Initiative negotiated in July 2022, allowed for the safe passage of grain exports and resulted in the shipment of 33 tons of grain and a 20% reduction in food costs according to the United Nations. While Russian grain exports are not subject to Western sanctions, Russia has argued that restrictions on payments, finance, and international transactions have hindered its ability to sell grain overseas. There are concerns that Russia's exit from the agreement could lead to higher consumer prices, particularly in the developing world.
The fourth round of IPEF negotiations took place from July 9th to the 15th in Busan, South Korea. In a statement the US Commerce Department and office of the US trade representative said that the 14 participating countries and made progress on pillars related to trade, clean energy, and the economy but did not go into details. The IPEF participants completed an agreement on supply chains during their last negotiating round in May. According to the statement from USTR details on the next negotiating round will be announced at a later date. The United Kingdom officially joined the comprehensive and progressive Trans-Pacific Partnership for CPTPP. During the past meeting in Auckland, New Zealand on July 15. The group will discuss applications for membership from China and Taiwan, as well as for other applicant countries.
Finally, US President Joe Biden signed an executive order on July 28th, in Portland, Maine that would remove red tape and streamline reporting process for federal research and development funding, with the goal of encouraging domestic manufacturing of new innovations. The executive order also calls on federal agencies to develop a coordinated interagency approach, particularly on a single platform to handle reporting requirements.
This is the Geoeconomics Agenda with Paul Nadeau. Today, I'm sitting down with Dr. Eyck Freymann. He's the author of One Belt, One Road: Chinese power meets the world. And in September, he'll be starting as a Hoover fellow at the Hoover Institution at Stanford University. Dr. Freymann, thank you for sitting down with us today.
Eyck Freymann
Thank you for having me.
Paul Nadeau
So first things first, we've heard a lot about One Belt, One Road, Belt and Road Initiative, however it may be labeled these days. What is it? When you talk about One Belt One Road, what exactly are you talking about?
Eyck Freymann
Belt and road is three things. It is a slogan or a brand for how China wants to present itself on the world stage. It is a campaign that emerged over time, largely from the bottom up. In response to Xi Jinping's interest in the slogan to sell the brand and build the brand abroad. And then finally, it's this patchwork collection of infrastructure and political relationships that China developed around the world, largely in the process of trying to sell the brand.
Paul Nadeau
So who started it? How did this begin in the first place?
Eyck Freymann
Well, I think it's important to break away from the Chinese narrative about this, which is that, like Athena, it sprung fully formed from Xi Jinping's head. In fact, this was a well developed playbook of policies, including investments, large infrastructure, construction projects, political alignments between China and neighboring countries that was developed really in the early 2000s. And cultivated into something that looked like a playbook during the Hu Jintao era, what Xi Jinping did was he repackaged it, and he gave it a new name. And that name, by the way, wasn't his creation, either. Chinese politicians have been talking about a new Silk Road or "si chou zhi lu" for many years. But Xi Jinping wanted to give it a unique spin, because he wanted it to be his personal policy.
Paul Nadeau
What did Xi hope to get out of this? Exactly? Why put his white tie this to his own personal brand? What What was he hoping to get?
Eyck Freymann
So as the book argues, there's really two objectives here for Xi Jinping. And they're working almost on parallel plans. The first objective is entirely domestic. And it has to do with a man who's got rivals, and is trying to consolidate the party state, particularly the instruments of financial power around himself in the first few years of his term in office. And that's why he announces this initiative just a few months after taking power in 2013. And he tries to drum up a massive propaganda campaign to signal to institutions across the party state from provincial and local officials to the central government departments, to universities and think tanks, and even private businesses that this is the big new thing. It's Xi Jinping's thing, right, you gotta hop on board. Over time, as it was institutionalized. The hope was, this will extend greater central control over these activities. And given Xi Jinping more strings to pull when he wants to get stuff done, both inside and outside China, and then abroad, Xi Jinping clearly has a desire to be a big man. He likes being on red carpets and hosting ceremonial events. And this as a diplomatic protocol, gave him the pretext to have a lot of these summits with leaders around the world. It allowed him essentially to when he was traveling abroad, be greeted and treated with great respect, because whenever he would travel, he would bring goodies.
Paul Nadeau
So just to set that before we turn on to what exactly those goodies were. It sounds as if the label is put out there. And then the bureaucracy, the party, kind of scrambles to give that form. Is that basically how it works in China?
Eyck Freymann
Yes.
Paul Nadeau
Okay.
Eyck Freymann
That's a typical formula for how the Chinese party state governance. This is something we studied in graduate school. The Communist Party is an enormous organization. It's got almost 100 million members, but also China is a big country. And patterns and systems that work in one part of the country don't necessarily apply elsewhere. And there's a lot of centrifugal force. The expression in Chinese history is the hills are high and the Emperor is far away. So there's always a tension between central government and local government interests. And the way that the central government often develops new policies is to throw out a slogan or an idea, which is substantively underdeveloped. And then encourage local experimentation to figure out how best to make that work
Paul Nadeau
To kind of adaptability, I guess.
Eyck Freymann
Yes, it's, well, we talk in the United States about using the states as laboratories of democracy. Well, in China, they use the provinces or state owned enterprises or cities, as laboratories of autocracy. Interesting, it was unclear what exactly this would look like. But there was an idea of what this should achieve. And the idea was provinces, cities, state owned enterprises, private enterprises, universities should do more things with the outside world. They should draw links between China's economic power and its political position. And they should try to use the first to develop the other by building relationships, friendly relationships, cooperative win-win relationships that China could ultimately deploy for its advantage. And the geopolitical angle was played down. At first, the idea is China's not doing this opportunistically, it actually is interested in win-win cooperation. This is making down payments on relationships, which in the future, will restore China to its rightful status, its historical centrality in the global order. And all of the other perks of of central status will, in theory follow from that.
Paul Nadeau
So let's turn back to the goodies to the perks, all of that. What were the developing countries getting out of this like to talk a little bit about the road or you know, maybe even better you talk about the story of how you found yourself in Sri Lanka, and what you were doing there in the first place?
Eyck Freymann
Well, we can get into this in a minute. But I think it's important to remember that when the Belt and Road starts, it's not just about developing countries, China has, ever since the early Cold War era, think the Bandung Conference of 1955 when Zhou Enlai tried to present China as the leader of the nonaligned, developing world, this has always been China's aspiration. It sees other developing countries as followers or potential followers. But the Belt and Road initiative, as it was originally proposed, was about a lot more than that. It was about connecting China to Europe in particular, and
Paul Nadeau
Physically connecting,
Eyck Freymann
Physically connecting it, but also through webs of relationships and trade, the idea of China, we already have this massive economic presence in the world, but it doesn't correspond. We're an economic giant, were a political midget. So let's let's try to bring those two into alignment. I remember when I was in Beijing in 2015, I worked as a research assistant to a professor at Tsinghua University. And we were looking at articles from British and French media to try to quantify the soft power impact of when Xi Jinping visited these countries and announced investments. So there's actually a belief that you could quantify the impact, and that developed, developed countries would be interested to. There's another thing to remember here, which is that generally speaking, developed countries are more desirable markets to invest in. Because they're safer, you get they grow fast, there's less political risk. And this is a bad thing for global development, but it's a fact of life. So when China began this initiative, and they didn't put clear boundaries on it, a lot of Chinese banks and companies said, awesome, I'm going to invest in Britain, and France, and Germany, and Japan, and the United States.
Paul Nadeau
Because they're safe.
Eyck Freymann
Because they're safe. That's where the money is to be made. And because these institutions wanted to pull their money out of China for various reasons, they were expanding abroad. And they said, Oh, I can buy a hotel chain in Italy, and call this Belt and Road. Awesome. And it was only later, when the developed countries got wise to the potential security risks of letting China into their critical infrastructure began to put more screening mechanisms in place, and just in general turned more hostile diplomatically, that the Belt and Road became increasingly a story about China's engagement with the developing world.
Paul Nadeau
Interesting. So they first started in the developed world trying to build the relationships and the investments there.
It was both, it was both okay. But we don't have perfect data. Because at the beginning, in particular, no one defined what the Belt and Road road was or wasn't. So however you defined your criteria for what projects or investments you counted, that would define what you came what came out the other end. But it's inarguable that Chinese banks and firms were investing a lot more in developed countries than developing ones, especially the 2013 to 2016 period.
So this sounds very much like the the experimentation, the adaptations that you were talking about before giving, putting a slogan out there and letting the the activities themselves give it form. Is that fair to say?
Yeah, it's fair to say and you have to remember, this didn't start out of whole cloth. China was a very fast growing economy. And they had started telling their companies to invest abroad, to expose themselves to international competition, just to get there to secure their own supplies of critical resources. This started in the early 2000s. And what it had produced, when Xi Jinping inherited when he took power in 2012, 2013, was the sort of frenzy of foreign investment in which a lot of firms were pulling money out of China and using it to buy sports teams in Europe or do stuff that was not in his view in the national interest. Yes. So one of the goals of the policy was signal. Over time, there's going to be more pressure on you if you're pulling your money out of China, to make sure that that is corresponding to a Chinese national goal. So you're not you don't just get to pull your money out arbitrarily. And at first, when it was undefined, that's exactly what companies did. Right. But that became harder over time.
So I'm, I'm kind of curious, and I worry a bit about going down a rabbit hole of public policy, wankery, but I am a little curious about how China learns, how does it take information and process it? And then turn that into to changing behavior leave, you've talked about as well, the the loans to developing countries how they initially made a lot of loans to countries that are high credit risks, and then they stopped doing that. So there's clearly a process of learning and adaptation? Can you talk about that process? A little bit? And does it work?
Eyck Freymann
Well, let me answer as, as a scholar and researcher, I'll give you a nerdy answer, which is that you can find a huge amount of really, really significant material on Chinese academic databases. China has, like any country, a lot of universities, some better than others. But at the top universities, and especially at the top, state think tanks, especially the Chinese Academy of Social Sciences, some really stellar world class academics, who are engaged in a debate with one another. They're reading international media, international scholarship, and they are willing to criticize current policy with the goal of optimizing it. Now there are certain unwritten red lines that are observed. You're not supposed to criticize the objective of the policy as the leadership has communicated it.
Paul Nadeau
Okay.
Eyck Freymann
That's above reproach that's above any scholars pay grid, okay. But what a scholar can do is saying, well, Xi Jinping or Li Keqiang or whoever our leaders are, have told us to do X, and in fact, we're doing y. And here's the reason why we're doing y. And here's how we can correct it. So is better to serve the instruction. And a clever scholar, and no one is better at this than Chinese scholars, can rationalize almost any policy they want to recommend as being the correct way to implement the party line.
Paul Nadeau
But always in deference to the party line, always in deference to the party line. What does that mean for the formation of Chinese policy and in practice?
Eyck Freymann
Well, we can take the example of Sri Lanka, China overstepped in Sri Lanka, but not in the ways that is commonly assumed. The standard,
Paul Nadeau
Sorry, before you keep going what are the common assumptions?
Eyck Freymann
The standard narrative is that China forced Sri Lanka or sort of tricked Sri Lanka into taking out loans for port this port of Hama tota, in the south of the country that was unprofitable went bust in which China repossessed. And this has fed into this narrative that China is a predatory lender. That's the language the US government use, that Trump and Biden have both used, and that Chinese practices are predatory and they have to be resisted. In fact, the pressure for the Hama tota deal came from the other direction. Mahinda Rajapaksa who is the president of Sri Lanka, not blameless in the realm of corruption, wanted a big vanity project in his hometown. And China was engaged in a much much broader set of investment cooperation agreements with Sri Lanka at the time, which included a much larger and more significant port in the capital of Colombo. Much of Sri Lanka's road network, much as Sri Lanka's power grid, and China said, We'll give this as a freebie to Rajapaksa because this is an important country, we're going to make money in this country. And we're willing to take a loss over here to make it up in more over there. Okay, what China got wrong, had nothing to do with being predatory and that aspect of their policy failing, it had to do with underestimating the way in which they could suffer reputational risk when the United States exploited the failure of this project to tar China as a predator. every lender and because China's practices are just very opaque, and a lot of developing countries don't have the resources to actually go to Sri Lanka, and figure out what happened, it is easy for them to take this American-Western narrative at face value. So this is something that Chinese scholars are very interested in. They call it America's discourse power, interest. And they say China, and America has created something called China threat theory, which is the idea that China is a predator. And they've misrepresented the nature of China's rise, which is intrinsically peaceful. So the question that they're interested in now is how to push back against China threat theory.
Paul Nadeau
How, what are some of the ideas they're exploring, as they think about pushing back against that?
Eyck Freymann
They don't yet have a good answer. Because while they recognize that China's overseas propaganda is not really well developed, they struggle to accept because again, it would run against the party line, the reality that there might be something to China's neighbors fearing China. So the fact that they have to present it for political reasons in their scholarship as entirely false consciousness, right Marxist style, false consciousness, it's impossible that a rational country could believe that its proper interest lies with the United States rather than China. It's impossible for any rational country to fear China, if you're actually in that frame, it's become kind of hard to make the recommendations, which would actually solve the problem, which is China should stop acting coercively towards small countries, because that's what they're afraid of.
Paul Nadeau
But no one nobody wants to make that recommendation is that…?
Eyck Freymann
I think many people within the Chinese academic community, believe that call it wolf warriorism, is a gigantic own goal. But it's hard to criticize within the system, especially as the general ethos becomes more closed and security minded and paranoid. The Chinese discourse is not wrong, that they're under pressure from all sides, that the United States is rallying and coalition against them, that the United States under the policies of the last two administrations has been pursuing a policy of containment light. They're not wrong about that. And that, but that has made it very difficult to criticize players inside the system, who are more hawkish. And so you could, you could think that wolf warriorism is sort of a toxic culture that has emerged within Chinese academia, Chinese diplomacy, and Xi Jinping allowed it to fester without publicly criticizing it. And because everyone knows that Xi Jinping didn't criticize it, he has sort of tacitly endorsed it, and that makes it problematic to criticize the wolf warriors. So one thing that Susan Ping has done since the 20th Party Congress in last October October 2022, is he's made some high profile personnel changes that have reassigned some wolf warriors, especially the problem the most prominent one is the Foreign Ministry spokesman Zhao Lijian to like really humiliating roles where they will never be seen or heard of again, and that has sent the message. Xi Jinping thinks that we've overstepped in our diplomacy. And so things have moderated a bit, but especially in the run up to the party congress. No one wants it to be the person who crosses Xi Jinping.
Paul Nadeau
So let's turn to the future, then, you we've had about a decade or so plus of experience with this Belt and Road program. How does you've you've kind of talked about how China has has assessed its progress up to this point. What are some of the key lessons that you'd say it's taken? And what is it going to do next? How is it going to move forward in this space?
Eyck Freymann
Okay, the number of lessons. Number one, China has become disillusioned that Western countries, especially the United States will ever accept the Belt and Road as part of the international order. And that could potentially take China in a very alarming direction. Because one thing that the Belt and Road contains is a an ideological blueprint for what a future Chinese alternative world order could be. So and originally it was posited as not at all threatening to the west entirely compatible with with with existing this existing order.
Paul Nadeau
Liberal internationalism, with Chinese characteristics?
Eyck Freymann
Kind of? It's about free trade. Yeah, but increasingly, it seems like it could be about something else or it could be refashion to redefine seems to be about something more…
Paul Nadeau
Revisionist?
Eyck Freymann
More revisionist. So that's one way in which they've learned they've learned to expect, relentless across the board opposition from the United States. So they've stopped caring about persuading Western audiences, that it's not a threat to those countries geopolitical position.
Second, they've learned that throwing billions of dollars at gigantic prestige mega projects is a bad investment. It they're both bad from a commercial perspective, as one investment banker once told me anyone who can find $65 billion of bankable infrastructure projects in Pakistan is a better investment banker than I ever was. So what China has realized is it doesn't actually pay to build infrastructure that can't pay for itself. Strictly speaking, you won't get paid back, you'll make eggs, pennies on the dollar. But more importantly, you expose yourself to reputational risk, because the Americans will then exploit those projects, to tar your whole your whole initiative. So you have to be more careful. And another way to put that lesson is you can get more bang for your buck, if you invest in different kinds of relationship building techniques, and one of them is tech cooperation. Another of them is security cooperation, which I see is the two most important strands of Belt and Road practice going forward.
And then I think the third lesson is that China needs to build alternative institutions. Because the window of what Chinese scholars have called the window of favorable geopolitical opportunity, the window of a friendly external environment is closing. And it's not clear how fast it's closing, or what happens after it closes. But there's an anticipation that at some point, maybe in two years, maybe in 15, China is going to enter a period of extreme competition with the United States. And that's why Xi Jinping has more extreme than today much. And that's why Xi Jinping keeps warning cadre said every opportunity to prepare for storms. He uses the metaphor of that the helmsmen, captaining the ship. This is a metaphor that Chinese leaders have used back to Mao Oh, yeah. And he says, we're heading into a storm batten down the hatches, get ready. That doesn't necessarily mean war. But it means a period where China's external environment might become extremely hostile. And there's a recognition that China needs to prepare, internally and externally for that contingency. And the Belt and Road as part of this is the Belt and Road is the means through which China now interacts with a lot of its developing country partners. It's the it's the title under which China imports a lot of commodities that it needs. So in a worst case scenario, in which a trade relations with the West break down, this is going to be China's economic and political lifeline. And that is why I think the Belt and Road isn't going away, it, it's going to take on a different name, maybe we'll take on a different form, that the practices that are contained within it are going to adjust as they always have. But if we think about this, from the perspective of the original definition, which is it's a it's a slogan for an idea of China's position on the world stage, it's a campaign to build that and maintain it. And then it's all the infrastructure and relationships that get made in the process. This is an extremely supple and flexible idea.
Paul Nadeau
Interesting. So that's a pretty ominous conclusion, turning to the US or Japan or the rest of the world, however you want to frame it, what can what can everyone else do to, I don't know if you want to call it, hedge against this or prepare against this or maybe even shape China's behavior in a way that's more constructive? What you've described sounds a lot like China reacting to what it sees as a threatening, external environment. Is that something that the rest of the world whether that's the United in the in Washington, DC, or in Tokyo or Paris or wherever, is that something that we just have to accept? Or are there ways that we can turn this into something more constructive?
Eyck Freymann
I think we missed the boat on turning it into something more constructive.
Paul Nadeau
Well… shoot.
Eyck Freymann
I wrote in my book, in the conclusion that we have three options here. We can join and CO OPT, we can hedge because maybe it will collapse under its own weight, or we can confront and contain. And each of these three options had obvious pros and cons. I thought the worst option was to hedge, okay, because it was not going to collapse under its own weight, even though it might experience obstacles and roadblocks, and hedging would just have all of the downsides of a containment strategy. Without a lot of the benefits. I think joining and CO opting still would have been the smartest thing to do. Because I think it would have allowed Xi Jinping to present it as United States acquiescing to his domestic position. And that would have would have made it very difficult for him to resist US entrance into the initiative. And then I think once inside, the US could have insisted on a more transparent set of practices to stop China from actually turning it into a future geopolitical walk. Incidentally, Rush Doshi, who is now the director for China on the National Security Council, widely regarded as a hawk on China's long term aspirations recommends the same thing in his book, the long game. But I think even as we wrote that, Rush and I both knew it was not going to happen. Domestic politics in the United States just made it impossible to be seen as acquiescing to this initiative, even though the joining co-opt strategy was incorrectly administered would have been something different. The politics of the United States has just made it so that we have to confront China. That's the only thing that these two parties agree on. And I think the top focus of the United States correctly, has been, how do we keep this out of our hemisphere as much as possible? And how do we prevent China from using these relationships to acquire basic rights for its navy, and I think by this, as far as open sources indicate we've been pretty successful in that department. There have not been new reports about China's naval-basing access, there have been a couple of failures, we failed in the Solomon Islands, we failed in Cambodia. But relative to how things might have gone, I think we have been very, very successful with that. And the US has practiced a playbook of economic statecraft of its own, that we just don't see publicized, that has been pretty effective at preventing that worst case scenario. But what the Belt and Road, what our response to the Belt and road has not done as effectively is prevent the countries that were always going to be most inclined to jump on the bandwagon, claim to the bandwagon to have realistic alternatives. And some of this was outside our control. But some of it, I think, was missed opportunities. I think it's very concerning that Russia and Iran in particular, are integrating more and more deeply with the Belt and road. And I think the possibility that this becomes not some global project with 160 countries, but just a core group of China and peripheral Asian countries that are in an on an entirely separate financial technological supply chain system. That is a long term threat to the liberal international order that I think we haven't yet grappled with. And I think our focus should be, how can we drive wedges inside that coalition? It's not just about persuading Greece and Italy, which sign Belt and Road agreements, but we're never really on board with that project. It's really how do you how do you make the case to a Southeast Asian states are a central Asian state, or a Pacific Island, which does an overwhelming plurality of its trade with China, that we're offering an alternative that's going to meet their domestic needs.
Paul Nadeau
Well, on that note, I'll just say that this has been a fascinating discussion. Your research has been, you know, absolutely enthralling to follow. So thank you so much for taking some time today. And I look forward to seeing what you do next and to reconnecting with us again in the future.
Eyck Freymann
Thank you, Paul. Appreciate you having me.
Paul Nadeau
Not at all. Dr. Eyck Freymann, thank you once again.
This is the Geoeconomics enda with Paul Nadeau. Finally, it's been an extremely hot summer in Tokyo. So what better time to talk about red wool pants, specifically the red pants worn by French infantry, or pantalon rouge that were adopted in 1829. The switch from blue or white pants to Red was intended to encourage France's madder red dye industry, which was just getting off the ground following the invention of an naturally sourced matter red dye two years earlier. Eventually, the red pants became as synonymous with the French army as red coats were for the British army. Even though by the early 1900s matter Red was replaced by a German produced synthetic dye that could be manufactured for a fraction of the cost. But what really caused concern for military planners wasn't the foreign source material, but the fact that red really, really stands out on the battlefield. By this point, the British Army had sacrificed its red coats for a khaki uniform, and the German army had moved from Prussian blue in favor of a grayish-green feldgrau color. But the French had no patience for such concerns from their own planners and the president public reacted furiously to the "muddy and glorious" colors suggested as replacements for the pantalon rouge. Even the Minister of War went so far as to say and I quote, that the "red trousers are France". When World War One broke out in August 1914, the French infantry experienced a significantly higher casualty rate, not least of all because the red pants stood out against the yellow fields and green grass on the battlefield. But what ultimately brought the red pants to an end wasn't the combat fatalities, but trade disruptions, as France could no longer import the German made dye once the war began. Dual use materials are everywhere, it seems.
That's all for this episode, but stay tuned for more on the way. Until then we want to know what you want to hear about as well as take your questions for our show. So send us an email at geoeconomicagenda@ihj.global. Be sure to like rate, subscribe, wherever you get your podcasts, tell your friends, and most of all, you listen. Thanks for joining us, thanks to the team at API for making this happen. And we'll talk to you next time.
(Disclaimer)
The views expressed in the IOG Geoeconomic Insights do not necessarily reflect those of IOG or any other organizations to which the speakers belong.