2021.05.10
API Symposium on Geoeconomics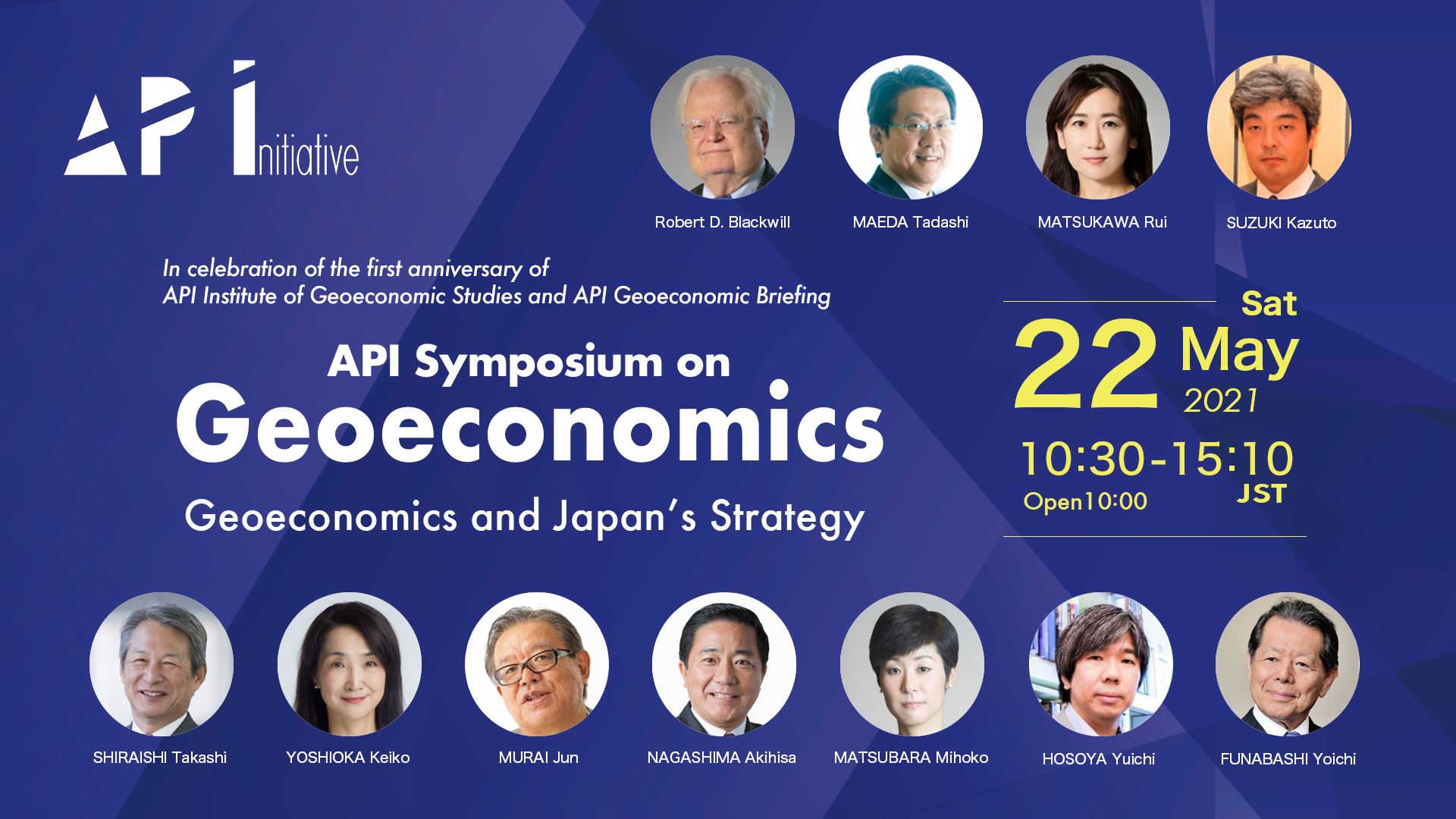 Today, it has increasingly become important for us to remember a tradition that stretches back to the founding of our nations – "the systematic use of economic instruments to accomplish geopolitical objectives."
We are living in an age of geoeconomics and therefore we must ask ourselves: what strategies should governments, corporations, and individuals develop and how should they deal with the geoeconomic challenges that continue to arise, such as tensions in US-China relations, human rights issues, and the Myanmar coup?
Asia-Pacific Initiative (API) established the API Institute of Geoeconomic Studies (Dean: MURAI Jun) in April 2020 and has been publishing the API Geoeconomic Briefing every week since May of the same year. In celebration of its first anniversary, API has invited Robert D. Blackwill, co-author of "War by Other Means" who argues in his recent report that Taiwan "is becoming the most dangerous flash point in the world for a possible war that involves the United States, China, and probably other major powers," to hold the symposium as follows. Please join us for this special event.
This event will be a Webinar. Please register for this event through the link below and you will receive an email with the details to watch the event live:
Details
Date: Saturday, May 22, 2021, 10:00-15:10 (JST)
Venue: Zoom Webinar, Japanese and English w/Simultaneous Translation
Host: Asia Pacific Initiative (API)
PROGRAM
10:00
Zoom room opens for online symposium
10:30 – 10:40
Opening Remarks:


FUNABASHI Yoichi, Chairman, API

10:40 – 11:10
Session 1 Plenary Discussion: "Geoeconomics and Japan's Strategy"

Keynote Speech: "U.S.-China Relations and Geoeconomics: The U.S.-Japan Alliance in a New Situation"
Robert D. Blackwill, Henry A. Kissinger Senior Fellow for U.S. Foreign Policy

Ambassador Blackwill, a geoeconomics expert, will discuss the topic of "What geo-economic risks may arise in areas relating to the Biden administration's policy toward China? The role of the Japan-U.S. alliance and expectations of Japan from the U.S. perspective."

11:15 – 12:15
Panel Discussion
"Geoeconomic Strategies for Japan: Towards Building a National Security State"


Moderator:
FUNABASHI Yoichi, Chairman, API
Panelists:
Robert D. Blackwill, Henry A. Kissinger Senior Fellow for U.S. Foreign Policy
MAEDA Tadashi, Governor & Representative Director, Japan Bank for International Cooperation (JBIC)
MATSUKAWA Rui, Member, House of Councilors; Parliamentary Vice-Minister of Defense; Parliamentary Vice-Minister of Cabinet Office

Following the keynote speech, we will discuss how Japan should develop a strategy to build a national security state through "a whole of society approach", as well as what role the Japanese government and its agencies should play and how companies should navigate these issues. Questions from the audience will also be answered.

12:15 – 13:00
Lunch Break
13:00 – 14:00
Session 2 Discussion: "From the Frontier of Geoeconomic Challenges"


(1)"Challenges in the Asia-Pacific Region"

Moderator:
SUZUKI Kazuto, Senior Research Fellow, API; Professor, Graduate School of Public Policy, The University of Tokyo
Panelists:
SHIRAISHI Takashi, Chancellor, Prefectural University of Kumamoto
YOSHIOKA Keiko, Senior Staff Writer, The Asahi Shimbun

In the second part of the symposium, we will discuss individual issues. In the first session, we will discuss China's attempts to change the status quo in the Asia-Pacific and its implications for the region, as well as the U.S. role and presence. What kind of geoeconomic challenges are countries facing when they are caught between the alliance-oriented United States and a China that is promoting its Belt and Road Initiative? We will discuss Japan's mission and what role it is expected to play at this moment.

14:05 – 15:05
(2)"Challenges in Cyber and Technology"

Moderator:
MURAI Jun, Dean, API Institute of Geo-economic Studies and API Senior Fellow; Distinguished
Professor, Keio University; Co-Director, Keio University Cyber Civilization Research Center, Special Advisor to the Cabinet on Digital Policy
Panelists:
NAGASHIMA Akihisa, Member, House of Representatives
MATSUBARA Mihoko, Chief Cybersecurity Strategist, NTT Corporation, Tokyo

In the latter half of the second part, we discuss how the field of geoeconomic challenges is a power game in which the leading U.S. and Chinese companies, so called GAFA and BATH, are competing with each other. We will discuss what role Japan can play and how it can take responsibility in cyberspace to contribute to its security, including how it can lead the charge in distribution of secure data. In addition, we ask what is required of Japan for the development of a free and open cyber space, and how industry, government and academia should work towards this goal.

15:05 – 15:10
Closing Remarks

HOSOYA Yuichi, Managing Director, Research Director, API; Professor, Faculty of Law, Keio University

15:10
Symposium closes
Speakers
---
---
---
---
---
---
---
---
---
---
---
---
For questions or inquiries about this symposium, please contact us here.