On May 1st, RJIF co-sponsored a one day international symposium focusing on three themes from the recently published book, Examining Japan's Lost Decades (Routledge Contemporary Japan Series). The symposium was co-sponsored with the Edwin O. Reischauer Institute of Japanese Studies; Weatherhead Center for International Affairs; Mossavar-Rahmani Center for Business and Government, Harvard Kennedy School; Japan Society of Boston and the Japan Foundation Center for Global Partnership.
The international conference featured lectures by authors of Examining Japan's Lost Decades and world experts and was comprised of three sessions- Session I Economics: Abenomics Growth Strategy; Session II Security and History Issues: The Future of US-Japan-China; and Session III Society: Issues of Employment and Education for Women and Youth.
Session I | Economics: Abenomics Growth Strategy
This session looked at the causes behind the economic decline during the lost decades, as well as what is necessary for raising productivity in today's economy in Japan. The panelists examined the issues from both microeconomic and macroeconomic perspectives.
---
Presenters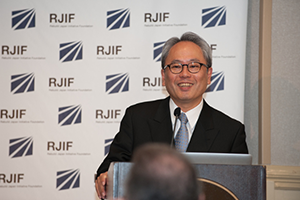 Kazuhiko Toyama
CEO and Representative Director of Industrial Growth Platform, Inc.

Instead of viewing the lost decades as a series of policy failures, it can be seen as a state in which local economies in Japan have become sluggish because small and medium enterprises with low profitability were allowed to survive
Small and medium enterprises have strong political power as they are the main supporters of both political parties. As long as they continue to receive subsidies from the government, it will be difficult to revitalize local economies
In the future, policies should be directed to help companies with high growth employ more workers rather than trying to save companies with low growth
It is also necessary to establish a labor market where contracted or non-regular employees can shift to regular work, as well to change the mindset of lifetime employment
Tokuo Iwaisako
Professor, Institute of Economic Research, Hitotsubashi University
Some aspects of Abenomics have been effective
If we merely wait for companies and sectors with low productivity to die out, economic decline will continue; thus policies which tackle this issue must be proactively set out
It will take time to see the economic effects of womenomics
As of now, the most realistic options for promoting economic growth is raising the productivity of companies and the salaries of workers
---
Discussant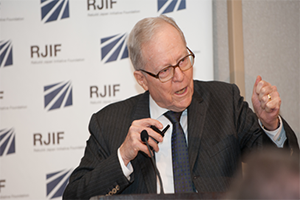 Dale Jorgenson
Samuel W. Morris University of Economics, Harvard University
One way of lifting the prefectures out of economic stagnation is removing the regulations that protect local businesses from outside competition
Many small hurdles currently prevent companies from expanding their businesses, and lower the level of competition within certain regions. For example, in many regions, companies are required to hold licenses specific to that area in order to do business.
Removing such regulations and hurdles could increase competition among companies, allowing those with low productivity to eventually fade out
---
Moderator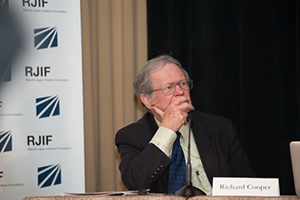 Richard Cooper
Maurits C. Boas Professor of International Economics, Harvard University
Session II | Security and History Issues: The Future of US-Japan-China
This symposium was held after Prime Minister Abe's visit to Washington D.C., during which the U.S. media focused largely on the history issue. The audience at the symposium also paid much attention, sparking a lively discussion. In particular, the comfort women and Yasukuni shrine issues were of note, especially in light of the fact that the Prime Minister did not apologize for the comfort women issue in his speech to the U.S. Congress.
---
Presenters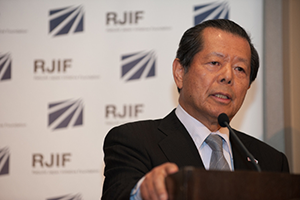 Yoichi Funabashi
Chairman, RJIF
In the future Asian regional order, Japan should act as a deterrent to China
However, inflaming feelings of nationalism in China would be counterproductive and Japan should develop a new kind of deterrence which is based on stability and order rather than power
Japan needs to envision an Asia strategy rather than looking to Washington to provide it with one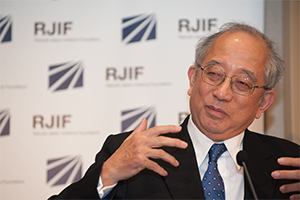 Kazuhiko Togo
Professor and Director of the World Affairs, Kyoto Sangyo University
Potential approaches to dealing with the Yasukuni Shrine issue
1. The establishment of a neutral World War II memorial
2. Deshrining of war criminals from Yasukuni Shrine
If the U.S. and the international community support Japan, there is the possibility that China may follow
---
Discussant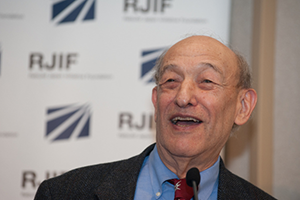 Ezra Vogel
Henry Ford II Professor of Social Sciences Emeritus, Harvard University
Reasons why Japan-China relations worsened after 1990, from the perspective of the strategic foreign policy of China
1. While China faced sanctions from the international community after the Tiannamen Square incident, it had an incentive to work closely with Japan. But when the sanctions were lifted, it was no longer necessary
2. After the Tiannamen Square incident, China needed to have the loyalty of the youth and developed a patriotism campaign that was built on anti-Japanese sentiment
3. The change of the ruling political party in Japan to the Democratic Party of Japan
It is not tenable that the U.S. will remain the dominant power in the Asian region in the future and he US must rethink its strategy towards Asia
---
Moderator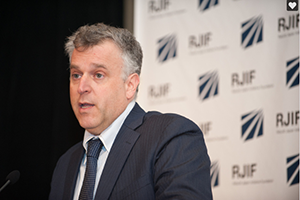 Barak Kushner
Senior Lecturer, University of Cambridge and co-editor of Examining Japan's Lost Decades
Session III | Society: Issues of Employment and Education for Women and Youth
This session comprehensively examined the ways in which changes in the labor market and education have intermingled and affected society in Japan. The discussion complemented the points raised in Session 1 regarding the issues of employment structure in Japan.
---
Presenters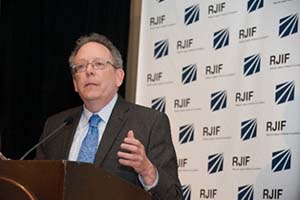 Andrew Gordon
Lee and Juliet Folger Fund Professor of History, Harvard University
The main issue with the employment structures during the lost decades is not the increase in non-regular workers but the difficulty in shifting from non-regular to regular employment
Looking at the issue of employment through the lens of gender, it is possible to observe an increase in the number of men who have moved from non-regular to regular jobs but there has not been such an increase among women. Instead, the working conditions for women have actually worsened over the years.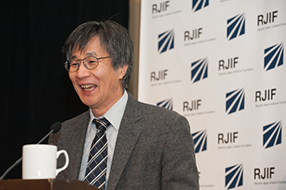 Takehiko Kariya
Professor, Sociology of Japanese Society and Faculty Fellow, University of Oxford
Due to the failure of education policies, Japan has not been able to develop human capital that can compete in the global labor market
For the revitalization of the Japanese economy, it would be ideal if companies with low levels of productivity disappear and the workers who become unemployed are hired by companies with high growth, as discussed in Session 1. Yet, in reality it is difficult for such unemployed Japanese to be taken on by global firms. The skills and capabilities that are demanded by global companies are not valued or taught in standard Japanese education, making it extremely difficult for them to be accepted in a competitive labor market.
---
Discussant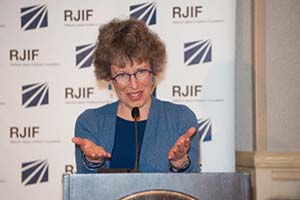 Mary Brinton
Reischauer Institute Professor of Sociology and Department Chair, Department of Sociology, Harvard University
Currently, the education system in Japan is geared to produce a labor force that fits the particular demands of domestic, Japanese companies. It is necessary to change the education and human resource development to help the youth develop portable skills that are in demand in the global work force.
---
Moderator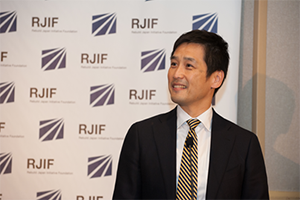 Hiraku Shimoda
Associate Professor, Faculty of Law, Waseda University
The panel discussions were followed by question and answer sessions with the audience, which included students and faculty members of Harvard University, as well as the academic community of the Boston and East Coast area.