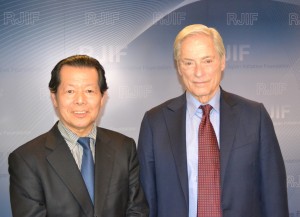 Independent Investigation Panel featured in CBS's well-known news magazine program, "60 minutes"
CBS "60 minutes" broadcasted the TV special "Fukushima: 3 years later" on April 6th, 2014. Yoichi Funabashi, RJIF's president, summarizes the findings of the Independent Investigation Commission on the Fukushima Nuclear Accident and told CBS in the interview (interviewer: Mr. Bob Simon) that there has been very little progress in terms of the preparedness for severe accidents. The remote cause of this lack of preparation was a public myth of "absolute safety" that nuclear power proponents had nurtured over decades and was aggravated by dysfunction within and between government agencies and utility companies.
"60 minutes" is the most successful news magazine program in the United States during the 21st century and many public figures have appeared in the program including Al Gore, the former Vice President of the US or Mr. Mikhail Gorbachev, the last President of the Soviet Union.